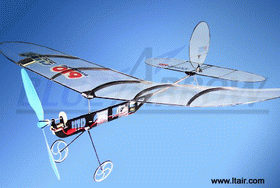 SKU
CPD61040
Brand
Blue Arrow
Added
2008/01/15
Updated
2008/01/15
 
Features:
Every dawn or dusk you can ramble in your garden or park nearby and enjoy its slow flight. It brings you no pressure but pure casual style, easy control and truly beautiful flying attitude. Yes! It is your CUPID610!

CUPID610 -- an ultra light In-door glider is brought to you by BlueArrow.

You can fly CUPID610 after an exciting flying event and relax from that intensive event.

You can demonstrate CUPID610 to your friend in your flight club. Just push it gently, it will fly smoothly. It can glide without power. Flies stably and slowly, you can even walk after it.

CUPID610 is a two channels ultra light In-door glider. Its flying weight is mere 60g.

No matter you are a beginner or an experienced pilot, you can get numerous fun flight from this beautiful and lightsome CUPID610 Ultralight In-door Glider.
Specifications:
Fuselage length: 610mm
Wingspan: 670mm
Wing area: 11dm2
Wing load: <4.3g/dm2
Main Frame Weight: 11.6g
Wing Weight: 9.5g
Total Weight:60g
Gearbox reduction ratio: 1:5
Propeller: 7060/7080
Motor: N60 Brush Motor
Servo: BA-TS-2.5
Receiver: R3P4-J Micro RX
Speed Controller: PP-5B 5A Brushed Speed Controller
Battery: 7.4V 250mAh Li-polymer Battery

(* Color may vary from the picture)
Includes/Requires:
Includes:
1 x glider
1 x propeller 7 x 6 inch
1 x brush motor N60
1 x receiver R3P4-J 4-ch
1 x speed control PP-5B
1 x Servo S0251
1 x Lipo battery 200mah/7.4V
1 x English manual

Requires:
1 x transmitter (2 channels above)
1 x RX crystal UM-5
1 x Lipo Charger

Back to computer version.