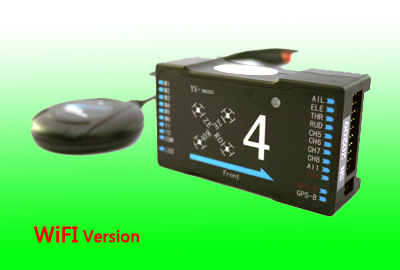 Features:
YS-X4 Autopilot system for multi-rotor is specially designed for Hobbyist. It continues the Innovation/Practicality/Convenience style of products of Zero UAV , applied to brand-new design of integrating IMU into one unified box with MC, possessing fashionable appearance with metal texture, comes with free navigation/ click & go/target lock etc. supper cool features, meanwhile it supports ground station like Android Phone/Tablet/PC and various platforms like Quad/Hexa/Octo etc. 9 types of multi-rotor, brings you extremely different flying experience.
Product Features:
1 Auto (Takeoff/ Go Home/Landing)
2 Target Lock & Fly encircle (Both ground station and RC Transmitter can control & No limitation)
3 Click/Touch & Fly To Point
4 Realtime Flight status (Google Earth Map)
5 Auto-Navigation
6 Fail/Safe (Auto Hover--Go home--Landing)
7 Low Voltage Alert
8 Gimbal Stabilization
9 Flight Control Mode(GPS Attitude Mode/ Attitude Mode/ Manual Mode)
10 Bluetooth Module Supported
11 Built-in Damper Module
12 Optional S-BUS/Ordinary/PPM Receiver
13 Carefree
14 Follow Me
15 Intelligent Motor Arm/Disarm
Specifications:
ZERO TECH YS-X4 Multi-rotor Flight Controller - WIFI Version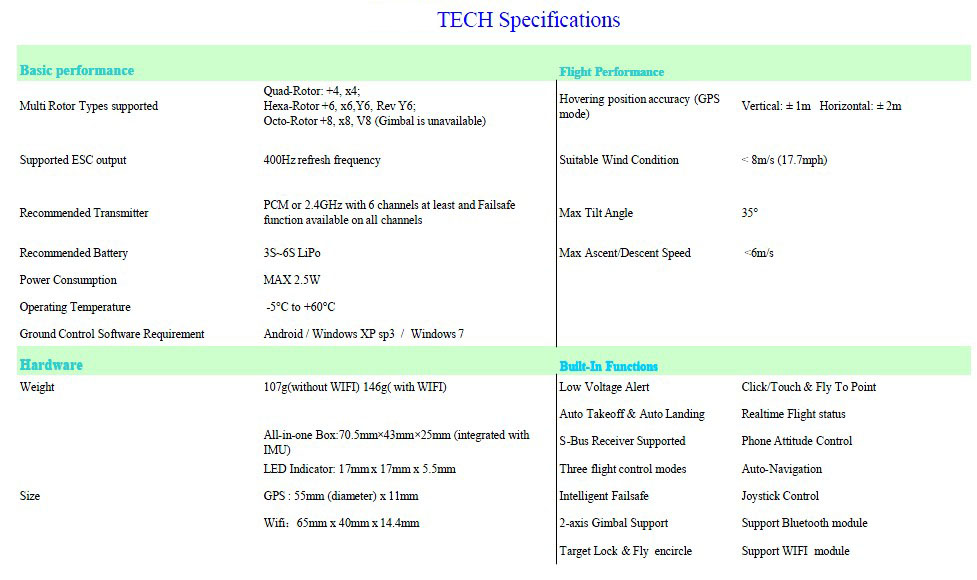 Includes/Requires:
Includes:
1 the WIFI module X1
2 main control board (MC + IMU) X1 (Black / Silver)
3.GPS module X1 (Black / Silver)
4 Power Module X1
5.LED lights X1
6.GPS bracket X1
7. Steering gear of wiring X8
8.USB cable X1
9 Warranty Card X1
10. Stickers X1
11 cable labels X1
Comments:
Function and difference of different versions: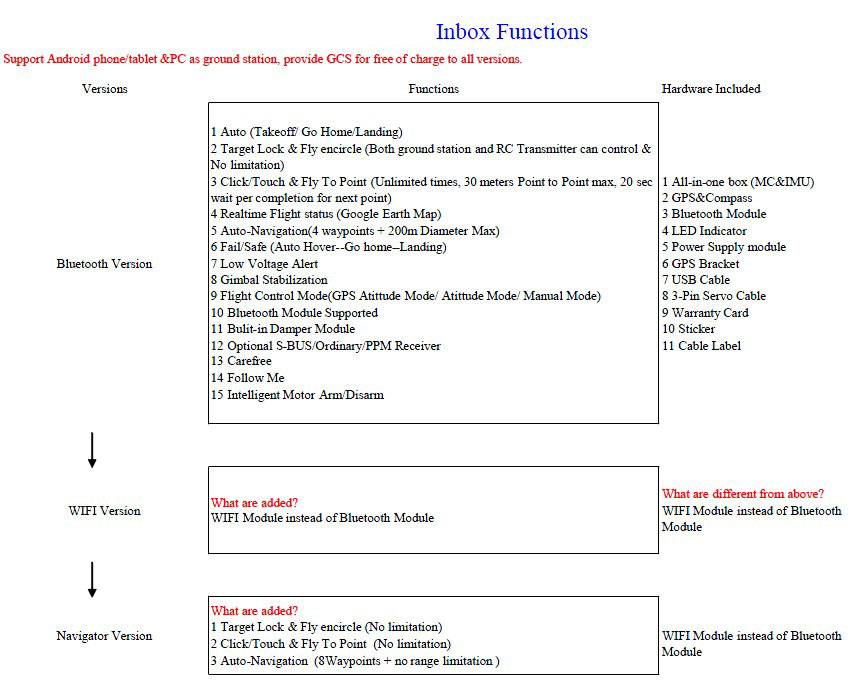 Back to computer version.