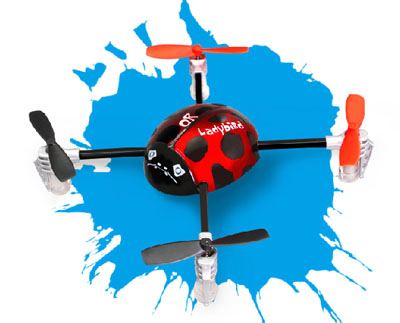 SKU
LADYBD
Brand
Walkera
Added
2012/04/13
Updated
2018/07/12
 
Features:
1). Onboard telemetry system enables real-time monitoring of receiver, gyro, mix control and speed setting.
2). In-built telemetry function also enables and simplifies flight battery voltage monitoring.
3). The latest 6-axis flight control system, with adjustable gyro sensitivity, permits super stable flight.
4). The attractive, durable and lifelike simulation-design canopy delights with its bright colors and state-of-the-art workmanship.
5). 8.5x8.5mm micro mutli-rotor uses a super lightweight airframe with excellent durability.
6). 7mm coreless motors offer immediate response and superb efficiency.
7). Stability and agility in flight simplify professional 3D maneuvers like pirouettes, 3D fun flips, rolls and more.
8). Compatible with the DEVO series radios (S type required for telemetry information).


Specifications:
WALKERA 2.4G QR Ladybird Quadcopter RTF
1). Onboard telemetry
2). Motors (x4): 0720RN57A-9M-130NL52
3). Receiver: RX2634H-D
4). Battery: 3.7V 240mAh (not included)
5). Dimensions: 8.5*8.5cm
6). Height: 3cm
7). Radio range: <=30m
8). Flight time: 6-8min

Transmitter type: 4-ch type 2402D (both mode 1 and mode 2 available, mode 2 will be sent by default)
Includes/Requires:
Requires:
1 x battery

* Battery is NOT included, but we include two battery connectors which match the charging port of the charger, so customers can use their own batteries by replacing the connectors if needed. Suggested battery type 3.7V 240mAh Li-Po.
* Accessories contained in the kit listed in the Includes/Requires section will override the descriptions/photos etc. in other sections including instruction manual if there is any discrepancy.
Back to computer version.