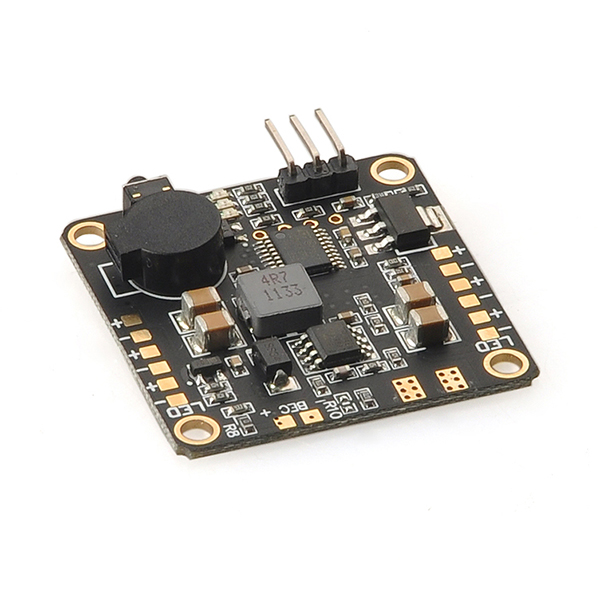 SKU
CYJFXB
Added
2015/11/13
Updated
2015/11/13
 
Features:
This power distribution board integrates BEC regulator, LED Control, Low Voltage Alarm, Lost Found Buzzer.
Commonly, ESCs for multicopters do not have BEC output, then this power distribution board can provide 5V power to your receiver, or you can change it to output 12V to power your VTX etc when use 4-6S power input (
Electric iron and soldering skills are required to change the board to 12V output
).
Also you can control your LED remotely, it supports static light, slow flashing and fast flashing 3 modes (select LED band based on the BEC output voltage, LED band is NOT included)
Lost found buzzer: you can activate the lost found function with your transmitter, the buzzer will make sound and LED will flashing to help you find your aircraft.
Low voltage alarm: cut off voltage is selectable among 3.4V/ 3.5V and 3.6V (per cell).
Specifications:
Multicopter 5-in-1 Power Distribution Board W/ BEC, LED Control, Low Voltage Alarm, Lost Found Buzzer
Max ESC number: 4
Power input: 7-26V
Mounting hole spacing: 30.5mm (hole diameter 3mm)
BEC output: 5V / 12V (5V by default)
BEC output current: 3A max
Weight: 6g
Dimension: 36 x 36 x 6mm
Guide on changing BEC output to 12V:

Remove resistor R8 using electronic soldering iron, and then short circuit the two terminals for R10.

Make sure you have the required tools and skills before buying this item.

Includes/Requires:
Includes:
1 x wiring hub
Back to computer version.