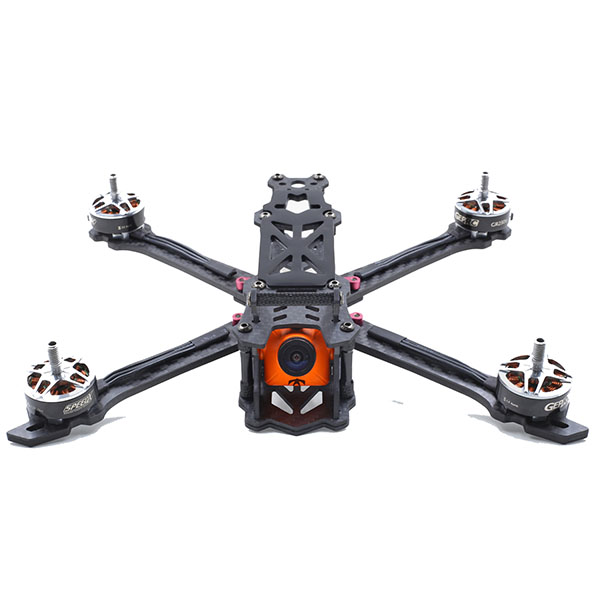 SKU
MARK2-4
Added
2018/08/15
Updated
2018/08/15
 
Features:
FEATURES:
1. Beautiful design
2. Top battery installation method
3. 2 kinds of HD recorder installation methods, more convenient for players to choose
4. High-quality 3K twill carbon fiber board, high-precision CNC aluminum alloy parts, simple and strong structure
5. 30mm height space makes the whole machine more stable
6. The lens is convenient for maintenance design
7. The narrowest part of the arm is 13.5mm, the wind resistance is smaller, the arm can be replaced, and it is easy to repair.
8. 1.5mm protection rod to ensure that the flight control and other components inside the fuselage are not damaged during collision and landing.
9. YFS screw, class 12.9 hardness
10. Comes with a PDB distribution board, integrated XT60, with BEC (5/12v output)
Specifications:
GEPRC GEP-Mark2 4" FPV Racing Quadcopter Frame Kit

Model: GEP-Mark2
Weight: 115-119g
Motor spacing: 200mm
Propeller size: 5 inch
Dimension: 215 x 180mm
Arm thickness: 4mm
Bottom board thickness: 2mm
Recommended setting (not included):
Flight control: Kiss/F4/F3/Naze32/ CC3D
Motor: 2204/2205/2206/2207/2305/2306
ESC: 20A-45A
Propeller: 5 inch
Battery: 3S 1300mAh ~ 4S 1500mAh
* This is the frame kit version, the motors, camera etc. in the pictures are for illustration purpose only and NOT included.
Includes/Requires:
Includes:
1 x GEPRC frame kit
Tip: This product is frame only, the motors, camera in the picture are for illustration purpose only and NOT included.
Back to computer version.