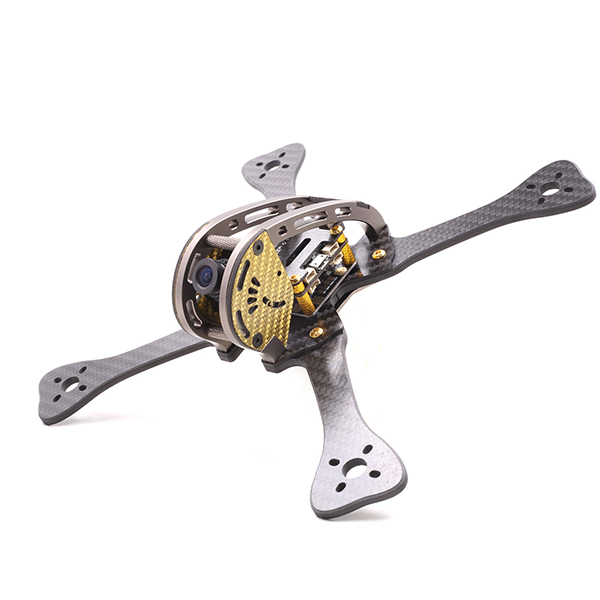 SKU
GEP-LX5
Added
2018/01/05
Updated
2018/01/05
 
Features:
FEATURES:
The drone uses 3k ultra-light carbon plate + Aero Aluminum # 7075. In order to reinforce the 4 arms, we also designed an aluminum alloy part to fix the arms, so that the arms are not easy to shift.
In order to fit more lenses, we presented a two lens splints which can be sued for Foxeer HS1190 camera and Runcam Swift generation 1 & 2 cameras. In addition we also equipped with a PDB, with BEC output 5v 3A and 12V 0.5A. The whole machine uses YFS screws, 12.9 strength.
Hint: This product is frame kit only and does not include the camera and fly control.
Specifications:
GEPRC GEP-LX5 Leopard Racing Quadcopter Kit (7075 Aluminium) - Golden

Model: GEP-LX5 Leopard
Weight: 114g
Motor spacing(wheel base): 220mm
Arm board thickness: 4mm
Side board thickness: 2mm
Other board thickness: 1.5mm
Recommended setting (not included):
Flight control: F3/ Naze32/ CC3D
Motor: 2204/2205/2206/2305/2306
ESC: 20A - 30A
Propeller: 4 inch
Battery: 3S 1300mAh ~ 4S 1500mAh
Includes/Requires:
Includes:
1 x GEPRC frame kit
* Camera and electronic accessories are NOT included.
Back to computer version.