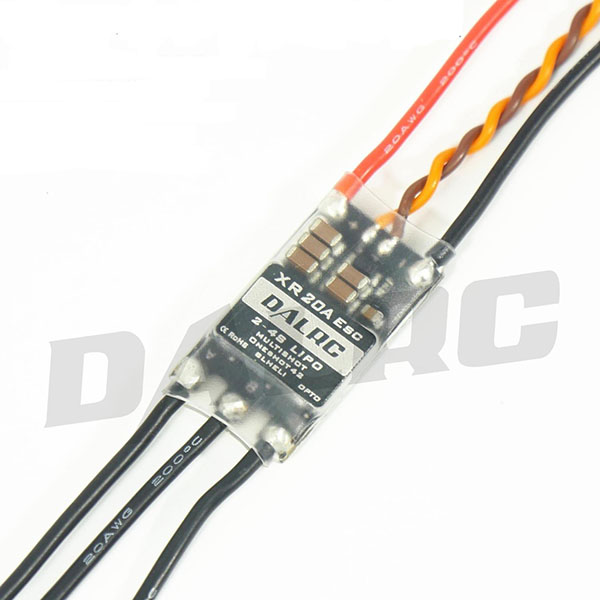 SKU
DL-20A
Brand
DALRC
Added
2015/12/04
Updated
2015/12/04
 
Features:
Features:
- Support OneShot super high speed control, rotating in two directions (for 3D multicopter), brake, degaussing compensation, closed loop control etc advanced functions.
- Optimised based on BLHeli firmware, good linearity and smooth starting.
- Optimised for multicopter application, good filtering, also well support fixed-wing airplanes and helicopters.
- Multiple protections: Low voltage protection, overheat protection and signal lost protection etc.
- Lost found function: When the throttle keeps at low position, after some time, the motor will buzz to make it easier for you to locate the aircraft.
- Throttle range re-calibration capable to best suit different receivers.
- Some parameters can be set by either program card or transmitter.
Hint: When use CC3D flight control, requested by the flight control itself, you must use PPM or S.bus receiver to work in OneShot125 mode.
Specifications:
DALRC BL20A 2-4S 20A Speed Control for Multi-rotors (BLHeli Firmware, support OneShot mode)
Continuous current: 20A
Burst current: 30A (for 5 seconds)
Power input: 2-4S Lipo
BEC output: No
Firmware: BLHeli (13.2 stable version)
Bootloader: ATMEL BLheli Bootloader (support Naze32 firmware reflashing)
Weight: 7g (including wire)
Dimension: 23 x 12 x 4.5mm
Dimension: 45 x 15 x 5mm
Weight: 7.4g (including wires)
Includes/Requires:
Includes:
1 x DALRC ESC
Requires:
1 x receiver (RX)
Back to computer version.