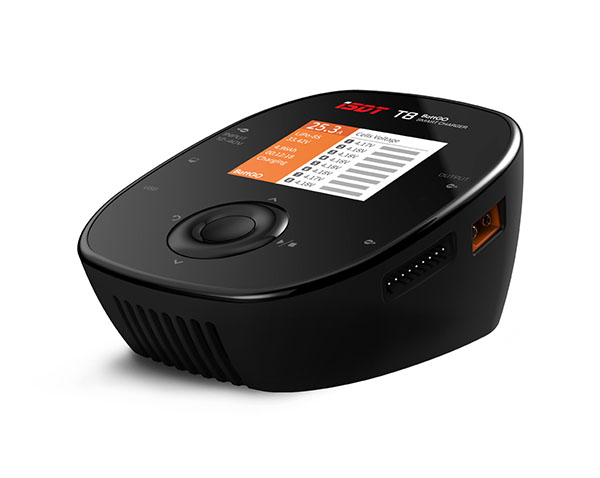 SKU
ISDTT8
Brand
iSDT
Added
2018/02/02
Updated
2018/02/02
 
Features:
The C4 is compact and travel sized, intelligent battery charger with great features. The charger can charge up to 80W (6A) via the AC or DC power cable provided. The back-lit LCD screen makes the simple menu a breeze to navigate all charging / discharging options. This charger includes a multi-charge cable with many different connectors allowing you to charge just about any battery. Charge LiIon, LiPo, LiFe 1-6 cells or NiCd, NiMH 1-15 cells with this compact charger.


Features
Create a safe charging condition and maximum reduce the danger caused by negligence or setting error of user.
Synchronous buck&boost converter technology makes conversion efficiency up to 90%.
Accept all typs of RC/Drone batteries: LiPo/LiLo/LiFe/NiMH/NiCd/Pb.
Easy to operate.
Various of charging mode to meet different demand
Perform 1-5cycles of C>D or D>C continually for NiMH/NiCd refreshing.

Specifications:
iSDT T8 1-8S 1000W 30A Smart Balance Charger
Input Voltage: DC 10-40V
Max current: 35A
Output Voltage: 0-37V
Charge Current: 0.1-30.0A
Discharge Current: 0.1-5.0A
Max Charge Capacity: 1000W
Max Discharge Capacity: 20W
Balancing Current: 2.2A/cell
Balance Cells: 8S
Supported Batt. Type:
LiFe/Lilon/LiPo/LiHv (1-8S)
NiMH/Cd(1-21S)
Pb(1-14S)
USB Port: 2.1A/5V
Display: 2.4〃320×240 IPS LCD
Operating Temperature: 0-40°C
Storage Temperature: -20-60°C
Dimensions: 100x120x58 mm
Weight: 305g
Supported languages: English, German, French, Spanish, Japanese, Traditional Chinese, Simplified Chinese


Includes/Requires:
Includes:
1 x iSDT T8 charger



Back to computer version.