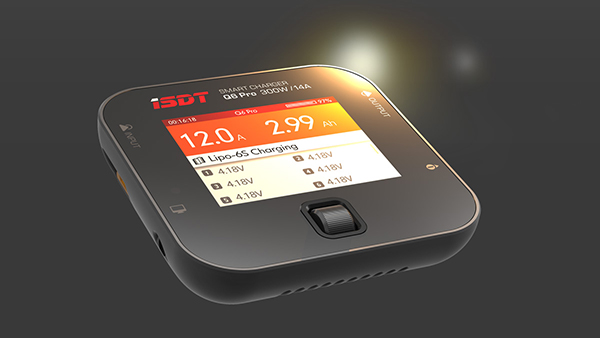 SKU
Q6-PRO
Brand
iSDT
Added
2018/11/07
Updated
2018/11/07
 
Features:
Double up the power capacity, thinner, lighter
Brand new ISDT Q6 Plus with rounded edge design easily stows in bag or pocket. Same size as the SC-608 charger with twice the power capacity.
2.4″ IPS Display
up to 178° visible angle, auto-brightness screen, still visible under strong sunlight.
Highly optimized internal construction with higher cooling efficiency.
Higher speed and efficiency synchronous Digital Power Supply Technology.
High speed ball-bearing fan promotes active cooling increase by 300%, even though the size has been reduced by 50%.
Outstanding performance from every perspective
ARM 32bit high speed Processor
Instant boot (within seconds) when initialized
After the depth of optimization

scOs

,Instant Boot, only a few seconds
One key shuttle control
One key metal shuttle control replaces the multi-button press operation, makes charging with the Q6+ a delightful experience.
scOs

Specially designed for smart charging OS

Bright, colorful, easy access set-up and status display. 80% deduction of operation process. Firmware updates can be performed using a personal computer.
3
rd

Generation Smart Balance Charger

Increased accuracy, with slight charging voltage adjustment capability.
Multiple Languages
Comes in a variety of languages to suit your needs.
Specifications:
iSDT Q6 Pro 2-6S 300W 14A Smart Balance Charger
Q6 Lite
Q6
Q6 Pro
Input Voltage
DC 7-32V
DC 7-32V
DC 7-32V
Maximum input current
12A
15A
15A
Output voltage
0-30V
0-30V
0-30V
BattGO™ Support smart battery
not support
not support
Output support
Charge Current
0.1-8.0A
0.1-14.0A
0.1-14.0A
Discharge Current
0.1-3.0A
0.1-3.0A
0.1-3.0A
Max Charge Capacity
200W
300W
300W
Max Discharge Capacity
5W
8W
8W
Balancing Current
0.8A/cell
1.0A/cell
1.0A/cell
Balance Cells
2-6S
2-6S
2-6S
Color
gray
black / white
multi-color cover
Supported Battery Type
LiFe/Lilon/LiPo/LiHv (1-6S)
NiMH/Cd (1-16S)
Pb (1-12S)
LiFe/Lilon/LiPo/LiHv (1-6S)
NiMH/Cd (1-16S)
Pb (1-12S)
LiFe/Lilon/LiPo/LiHv (1-6S)
NiMH/Cd (1-16S)
Pb (1-12S)
Display
2.4〃320×240 IPS LCD
2.4〃320×240 IPS LCD
2.4〃320×240 IPS LCD
Operating Temperature
0-40°C
0-40°C
0-40°C
Storage Temperature
-20-60°C
-20-60°C
-20-60°C
Dimensions
80x80x33.5 mm
80x80x33.5 mm
80x80x33.5 mm
Weight
119g
119g
119g
Includes/Requires:
Includes:
1 x iSDT Q6 PRO charger
Back to computer version.