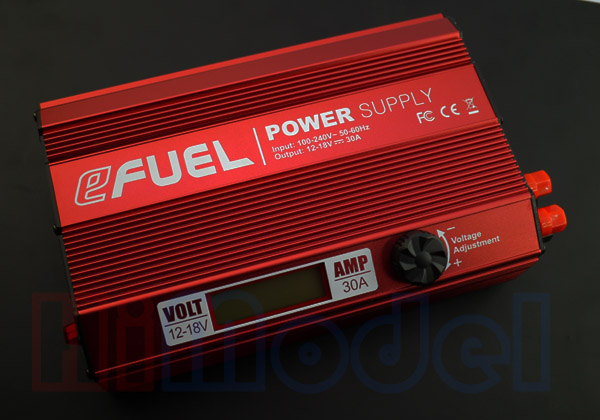 SKU
PSU-30A
Brand
SKYRC
Manual
Manual 1
Added
2011/07/19
Updated
2013/05/06
 
Features:
THIS IS THE NEW VERSION WHICH SUPPORTS BOTH 110V AND 220V.

Your eFUEL switching DC Power Supply is designed to use household AC power source to power

equipments that required DC power. The eFUEL converts standard household power 110V-220V AC to 12-18V DC power and can supply up to 30 amperes of continuous power.

If you are R/C hobbyist, technician or electronic hobbyist, you will appreciate the many uses for the power supply at your workbench or in your house. For example, power your battery chargers, checking the operation of auto sound systems before you install them into your vehicle, use your CB mobile transceiver as a base station. To top it all off, you can even power your mobile phone, digital camera or even your iPhone via the USB port.


FEATURES

* Type: 110V-220V AC Input

* Two DC power outputs, up to 30 amperes
* Output voltage adjustable 12-18V
* Large LCD indicates voltage and current amperes output
* Smart cooling fan
* Over temperature protection
* Over loading protection
* Short circuit protection



Specifications:
Type: PSU30A 110V-220V AC Input
Input AC Voltage: 110V-220V AC
Input AC Frequency: 50Hz/60Hz
Output Voltage: 12-18V DC±0.5V
Output Current: 30A±1A
Current Overload Protection: ≤31A 500MS
LCD Display: Voltage Precision ±0.3V
Input fuse: 10A Current Precision ±0.3A
Output Voltage Ripple: <150MV
Power Efficiency: >89%
Power Factor: >0.98
Over Temperature Protection: <100℃
Cooling Method: Cooling Fan
Operating Temperature: 0-40℃
Operating Humidity: 0-90%
Dimensions (L*W*H): 218x139x59.5mm
Net weight: 1.62kg

Wall plug type: US standard


Includes/Requires:
Includes:
1 x AD/DC power adaptor

Back to computer version.