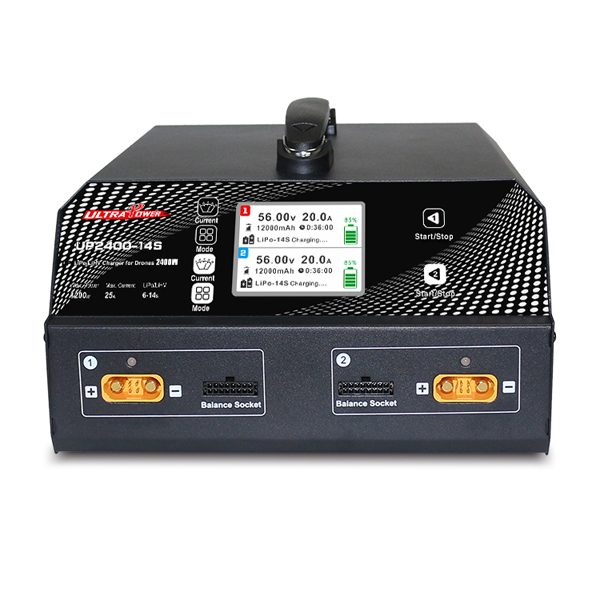 SKU
UP2400-14Y
Added
2020/10/21
Updated
2020/10/21
 
Features:

Features
1)Support charging 2 pcs of 6-14S LiPo/LiHV batteries.
2)Charging current is adjustable: 5A/10A/15A/20A/25A.
3)Two working modes: Balance charge mode, Storage mode.
4)Memorizing last charging current.
5)Multiple protection function: over-voltage, over-current, reverse polarity, and over-temperature protection.
Specifications:
UltraPower UP2400-14S AC 220V 2x 1200W / 2400W 6-14S Dual Channel Balance Charger
Input Voltage: AC 220V
Charge Power: 2400W(1200W x2)
Discharge Power: 140W(70WX2)
Charge Current : 5A/10A/15A/20A/25A
Battery Type: LiPo / LiHV
Battery Cell Count: 6-14S(also can charge 2S/3S radio battery)
Working Mode: Balance charge / Storage
Balance Current: 1.5A/cell
Dimension: 303X262X140 mm
Net Weight: 7.4KG
Includes/Requires:
Includes:
1 x charger
2 x balance board
Back to computer version.