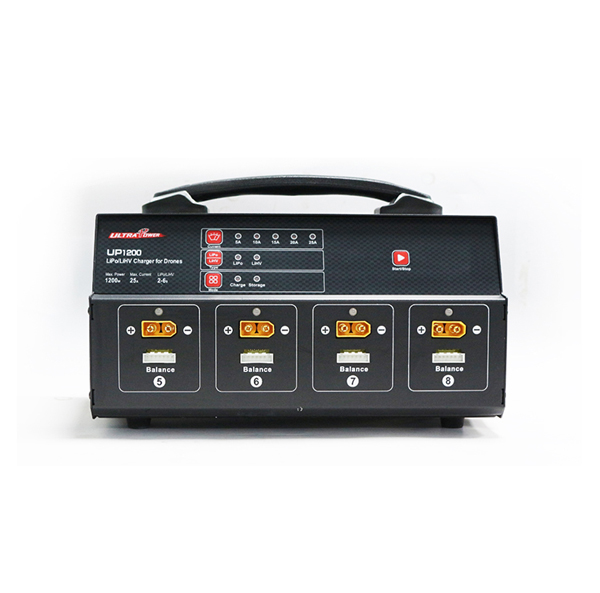 SKU
UP1200-8
Added
2019/05/29
Updated
2019/05/30
 
Features:
FEATURES:
01. Support charging 8pcs 2-6S LiPo/LiHV batteries, built-in charging nanny.
02. 4Ch/side, each side works independently, it can automatically turn to the next battery once fully charged.
03. Support to charge /discharge 8pcs 2-6S batteries simultaneously under storage mode.
04. Memorizing last charging current.
05. Two working modes option: Balance charge mode /Storage mode.
06. Adjustable charge current: 5A/10A/15A/20A/25A
07. Maximum safett: short circuit protectionction, reverse polarity preotection and overheat protection.
08. Reasonable cooling system to ensure the suitable working temperature.
Specifications:
UltraPower UP1200AC Octuple 110V/ 220V AC Input 1200W 2-6S 8-Channel Balance Charger
Input Voltage: AC 110V or 220V
Charge Output Power: Max. 1200W (2x 600W)
Discharge Power: 280W (8x 35W)
Charge Current: 5A/10A/15A/20A/25A
Battery Type: LiPo/LiHV
Battery Cell Count: 2-6S
Balance Current: 1.5A/cell
Working Mode: Balance Charge /Storage
Dimension: 270*190*160mm /10.63*7.48*6.30in
Net Weight: 4.61kg /10.16lb
Includes/Requires:
Includes:
1 X UP1200AC Octuple Charger
1 x AC cable
8 x balance charging distribution board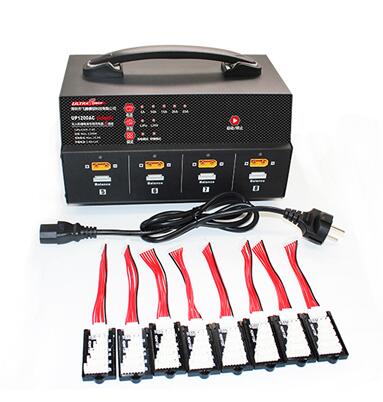 Back to computer version.