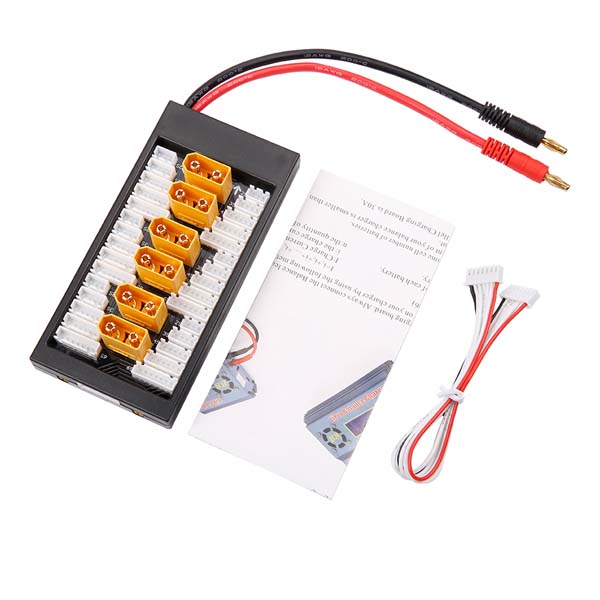 SKU
XT90-BCB
Added
2019/06/26
Updated
2019/06/26
 
Features:
For Lipos with XT90 Connectors

Connectors to battery: 6* XT90 connectors / 6* 2S-6S JST-XH Balance Ports

Connector to charger: 4mm Banana Plugs / 6S JST-XH


Product specifications:
Using this balance board with compatible charger (charger not included), it can balance charge 6 sets of same type, same cell count 2-6S battery packs. It can support 6 groups of 2S, or 6 groups of 3S, or 6 groups of 4S, or 6 groups of 5S, or 6 groups of 6S for parallel balanced charging.


Specifications:
JST-XH/ XT90 40A Parallel Balance Charging Board V2



Specification:
1. Balancing output cable uses 20AWG multi-strand silicone wire.
2. The main output line adopts large-size 12AWG multi-strand high-quality silicone wire.
3. Use high quality genuine AMASS gold plated high current plug.
4. Thickened PCB copper foil, allowing safe passage of 40 amps of charging current.
5. Use a safety fuse (50A) to protect the circuit.
6. Use the LED indicator to show the working status.
7. Add a cascade port to expand the charging port infinitely.



Includes/Requires:
Includes:
1 x Parallel charging Board
1 x 6S parallel cables

Back to computer version.