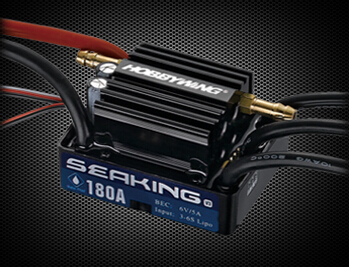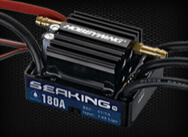 Features:
Hobbywing Seaking V3 ESCs:
• The water-proof level of the "SEAKING V3" series has reached IP67, indicating the speed controllers can operate
in water and users can directly use them without taking any precaution measures. (Note: please fully dry all the
connectors after use for avoiding rustiness.)
• The Copper Bar Heat Conduction technology (exclusively patented), water-cooling system and MOSFET with
extremely low internal resistance, all these greatly upgrade the over-current withstanding capability and
reliability of the speed controllers.
• Brand-new software specially designed for RC boats, featured by excellent start-up & acceleration performance.
In addition, it has outstanding adaptability to sudden load change caused by the hull bumping in sailing.
• 2 running modes: "Forward Only" and "Forward and Backward" for different applications.
• Multiple protections like low-voltage cutoff protection, over-heat protection and throttle signal loss protection,
those features specially designed for RC boats are reasonable and personalized.
• 8 options for timing adjustments, compatible with most kinds of sensorless brushless motors.
• Pocket-sized program card can help users to set the speed controller easily. (Note: The program card is optional & not included)
Specifications:
Hobbywing Seaking 180A Waterproof Brushless ESC for Boats SeaKing-180A-V3

Programmable Items:

Includes/Requires:
Includes:
1 x ESC Seaking V3
Back to computer version.