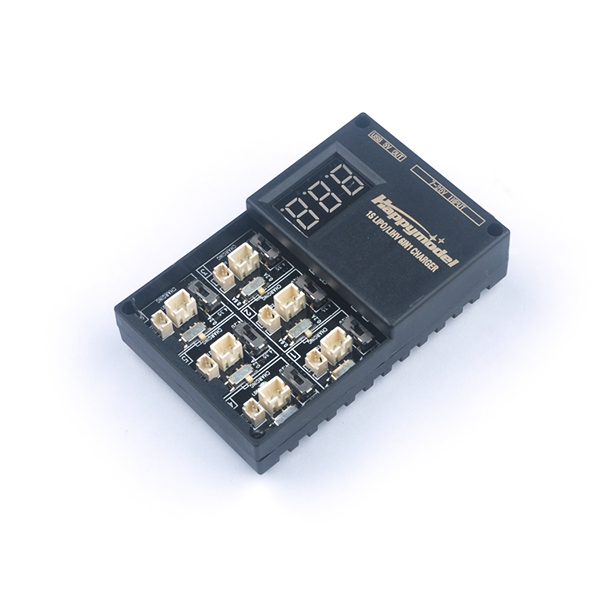 SKU
HM1S06
Added
2018/12/24
Updated
2018/12/24
 
Features:
This 6-port charger is perfect for a host of different 1S (3.7v) batteries. It is compatible with Lipo and LiHV chemistries and has two connectors on each port to fit either 1.25mm Picoblade or PH 2.0 batteries.


Note: Ports are numbered 1-6 Do not put more than one battery on a single port. For example: do not insert one battery on the Picoblade 1.25 plug and another on the same port with the PH 2.0 plug.


Features
Supports Picoblade 1.25, PH 2.0mm battery
Supports LiHV 4.35v battery
Supports 6 Batteries charged at the same time
The display shows each channel input and output voltage in order.
Charge at either 200mA or 600mA according to the setting of a switch that can be set independently for each port.
2-6S (7.4V-22.2V)as a power supply or use adapters with at least 2A battery output.
Specifications:
Happymodel 3.8V 1S Lipo LiHv 6IN1 6-way Battery Charger (compatible with Mobula7, 6 )

Weight: 41g
Dimensions: 82x51x22mm
Input: DC 7V-25V
Output switchable: Fixed at 200~600 milliamps
Cutoff voltage switchable:
4.20v cell charging cutoff (+- 0.5% margin of error) for 1S Lipo Battery
4.35v cell charging cutoff (+- 0.5% margin of error) for 1S 3.8V LIHV Battery

Includes/Requires:
Includes:
1 x charger


Back to computer version.