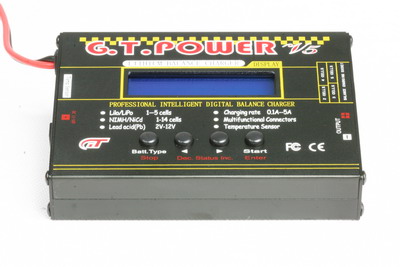 SKU
GTPWV5
Brand
GTPOWER
Added
2008/03/26
Updated
2014/11/15
 
Features:
This is the G.T. Power V5 1-5S Balance Charger
● G.T.Power V5 has an individual-cell-voltge balancer built in so it does not need a separate balancer when charging LiPo batteries.
●Maximum safety.
●High power and high performance circuit
V5 employs the circuit that has maximum output power of 50W. As a result it can charge up to 14 cells of Nicd/NiMh and 5 series of LiPo batteries with maximum current of 5.0A.
Specifications:
Description: G.T. POWER V5 BALANCE CHARGER

Operating voltage range: 10.0-18.0Volt

Circuit power: Max 50W

Charge current range: 0.1-5.0A

Current drain for balancing Li-Po: 200mAh/cell

NiCd/NiMH battery cell count: 1-14 cells

Li-ion/Polymer battery cell count: 1-5 series

Pb battery voltage: 2V to 12V

Net weight: 360g

Dimensions: 130×98×23mm
Includes/Requires:
Includes:
1 x charger
1 x Alligator Clips Cable
1 x JST connector cable
1 x Futaba connector cable
1 x glow plug heater charging cable
1 x temperature sensor
1 x English manual

Back to computer version.