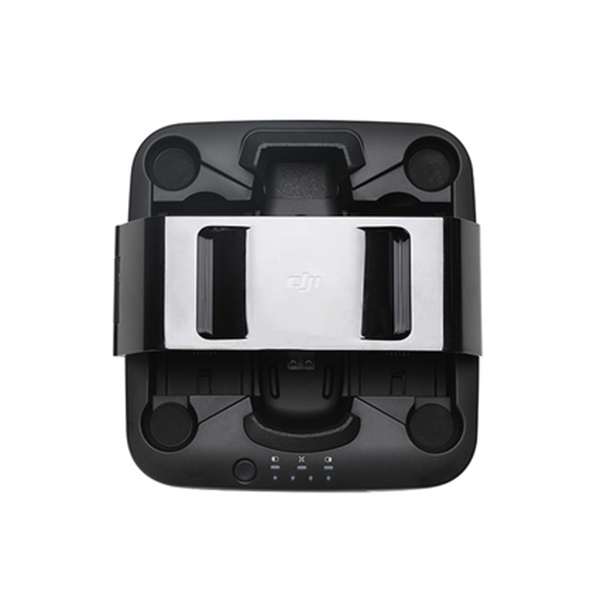 SKU
SPARK-29
Brand
DJI
Added
2018/08/07
Updated
2018/08/07
 
Features:
The Spark Portable Charging Station is designed to wirelessly charge up to three Spark Intelligent Flight Batteries on the go. Safe and intelligent with an impressive total power of 5000 mAh, the Charging Station charges up to three Spark batteries in 2.5 hours when fully charged. It also provides power to mobile devices via its USB port, and the Charging Station itself charges in just 1 hour and 35 minutes.
To charge Spark with a battery inserted, just put the aircraft on the charging contact in the Charging Station. Battery slots on either side of the Charging Station let you charge up to two additional batteries. When charging, the Charging Station will first charge the battery in the aircraft and then any extra batteries according to their power levels from highest to lowest.
High-capacity mobile charging station that's great for traveling.
Charges up to three batteries for up to 48 minutes of flight time.
USB port provides power to mobile devices such as smartphones and tablets.
Adjusts charging current automatically according to temperature.
Convenient for storing the aircraft and batteries when not charging.
Specifications:
DJI Spark Part 29 - Portable Charging Station


Model: MMPCS01
Compatible Battery Charger: Spark Battery Charger (F1C50 Version 2)
Compatible Battery Model: MB1-1480 mAh-11.4 V
Output USB Port: 5 V, 2 A (Total)
Real capacity: 4200mAh (built-in 5000 mAh battery), 54 Wh.
Weight: 680 g
Input Voltage: 13.05 V
Input Current: 4 A
Operating Temperature Range: 41–104°F (5–40°C)

Charging Time Connected to an external power source:
Approx. 1 hr 35 min (station only)
Approx. 3 hr (station and three batteries)
Disconnected from an external power source:
Approx. 2 hr 30 min (three batteries)

Compatibility:
Spark
Spark intelligent flight battery
Includes/Requires:
Includes:
Portable Charging Station × 1
Charger × 1
Power Cable × 1
Back to computer version.