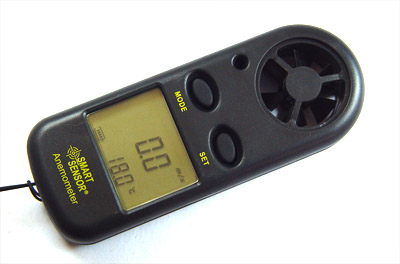 SKU
FSCS16
Added
2010/04/03
Updated
2012/12/07
 
Features:
- Wind speed measure in mph, ft/min, km/h, m/s or Knots.
- Wind speed in Beaufort wind scale bar graph
- Wind chill display
- Temperature display in Celsius or Fahrenheit
- LCD back light
- Auto power OFF
- Neck band included
- 3V lithium button battery operation
Specifications:
·Push "MODE" to turn on. Push "MODE"+"SET" to turn off.
·Auto shut off in 50 second.
·Push "MODE" for 3 second until the unit start to blink, Push "SET" change unit and accepted by push "MODE".
·back hole set ℃ /°F reading option.
Includes/Requires:
Includes:
1 x Electronic Anemometer

Requires:
1 x button type lion battery, type CR2032
Back to computer version.