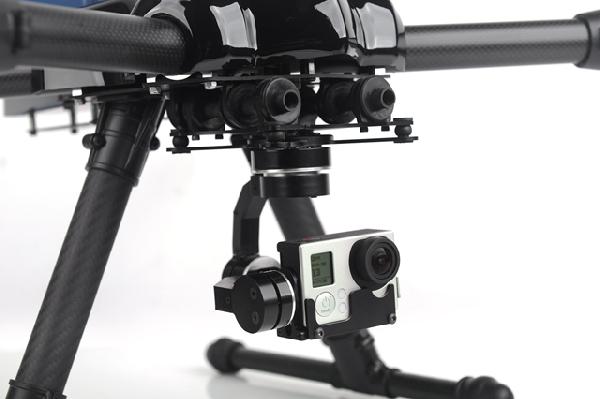 SKU
A10-3H
Manual
Manual 1
Added
2014/08/15
Updated
2014/09/02
 
Specifications:
X-CAM 3-axis Brushless Gimbal for GoPro A10-3H
Weight: 280g ( without GOPRO )
Stabilization frequency: 5200Hz
Input voltage: 7.4v ~ 16.8v ( 2S ~ 4S Lipo )
Tilt travel: +-90 degree; Roll travel: +-45 degree
YAW travel: 360 degrees unlimited rotation
AV ouput & Charging Module has been insided
Does not need any Auto Pilot System supporting
3 Gyro sensors & 1 Position sensor inside
Supports automatic location function


The S-BUS output provides full functions, all function has been defined channel number:
Channel 1 : ROLL Control
Channel 2: Return to HOME
Channel 3: TILT Control
Channel 4: YAW Control
Channel 5: Mode switch
The recommend operation ways
1. Single person: Just connect PPM channel for switch HEAD FOLLOWING , HEAD LOCK and AUTO BACK TO HOME, does not need to connect S-BUS channel, One receiver can be used.
2. Two persons: Does not need to connect PPM channel, only S-BUS output channel provides full functions. But needs 2 receivers
Notice: It does not need provide power to the receiver when you using two person mode, the A10-3H controller will provide the power to the receiver via the S-BUS.
Announcements
1. Do not touch the gimbal during the initialization after turn on, Keep the gimbal in quietude
2. Do not use BEC for the gimbal power, pls use 2~4S Lipo battery
3. Strongly suggest using 12mm tube to mount the gimbal
4. Make sure the center of gravity of the gimbal is correct before using.
Includes/Requires:
Includes:
1 x X-CAM 3-axis Brushless Gimbal for GoPro A10-3H


Back to computer version.