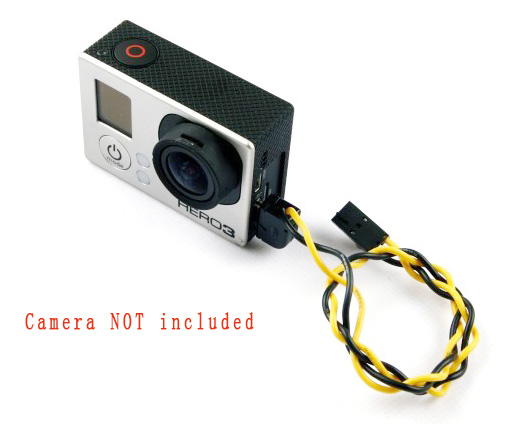 SKU
USBGO3
Added
2013/06/27
Updated
2013/07/01
 
Features:
Typical application: Video output from your GoPro Hero 3 USB port to your video wireless transmitter. (Connect your Gopro Hero 3 directly to FPV transmitter)
Special feature:
90 degree USB connector makes it easier and securer to fit the cable to the camera, also save spacing.
Specifications:
USB 90 Degree to Video Conversion Cable for Gopro Hero 3 Camera
Wiring: Yellow for Video out, Black for GND
Wire type and gauge: 22AWG silicon wire
Wire length: 30cm (including connectors)
Includes/Requires:
Includes:
1 x USB to Video Conversion Cable
Comments:
If you are looking for the USB to A/V conversion cable with 5V power input, please refer to
USB to AV Conversion Cable for Gopro3 Camera W/Power Input
.
Back to computer version.