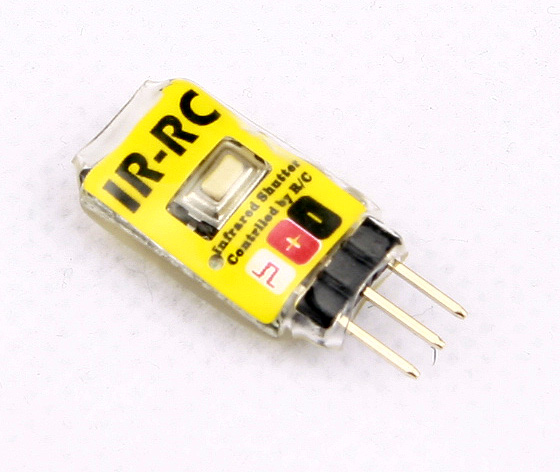 SKU
IRS-RC
Manual
Manual 1
Added
2014/06/24
Updated
2014/06/24
 
Features:
Typical application:
Control your on-board camera with your aircraft transmitter.

Plug the controller to a switch channel of your receiver, then you can control the camera with the switch channel of your transmitter.

* It requires your camera supports the IR control function (with IR receiver), also different brands cameras using different IR controllers, this is for Sony series cameras.
* Your camera should be set to IR control mode when use this device.
Specifications:
Super Tiny 1g Only Universal Remote Control Infrared Shutter IR-RC

Weight: 1g
Working voltage: 3.7 - 8.4V (DC)
Dimension: 17 x 10 x 4mm
Working current: <5mA

Camera supported
Sony NEX5/NEX5N/NEX5R/NEX5T/NEX6/NEX7/A33/A55/A580/A390 etc.(can't support NEX3series which without Infrared function)
Canon: 650D 600D 60D 5D2 5D3 500D 550D 450D 400D 350D 300D 7D etc. Canon SLR Pro1 G12 G11 G10
G15 G9 G7 G6 G5 G3 G2 G1 S1is S70 S60 Pro90IS 300v 300x 3000vQD IXUS jr/Ⅱ/Ⅲetc.
Nikon : D7000/D5000/D3000/D90/D80/D50/D70s/D70/D40/D40X/F65/ F75/8400 8800 Lite Touch Zoom
100W QD/150ED/140ED/130ED/110s/70Ws etc.
Pentax: K01 Kr Km Kx K7 K5 K10D K20D K30 K100D K110D K200D etc.
OLYMPUS: E301 E330/E410/E420/E510/E520 etc.




Includes/Requires:
Includes:
1 x Remote infrared shutter controller
Back to computer version.