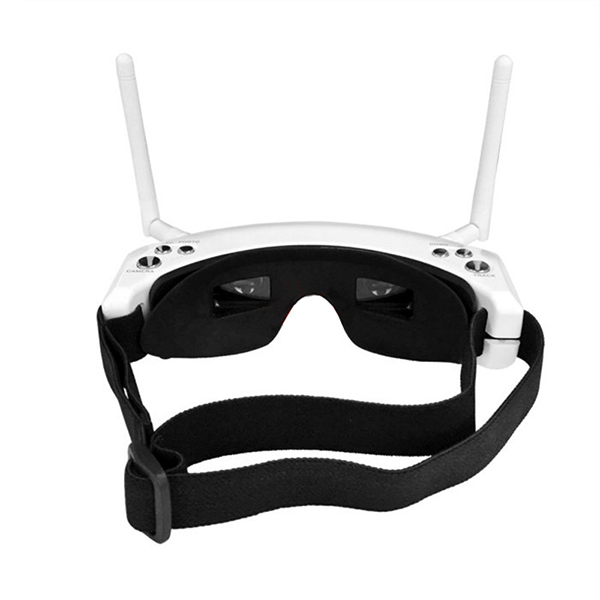 SKU
SKY02S
Added
2016/08/16
Updated
2019/07/17
 
Features:
This is the latest version of Skyzone goggles that released in July 2016.
The new Skyzone SKY02S V+ 5.8G 40CH 3D FPV Goggles are an upgrade of previous Skyzone 3D Goggles. It remains all the features of previous versions, including 3D/2D mode, built-in DVR with playback, head tracking, built-in front camera etc, also some new features highlight in HDMI-IN, channel auto searching, new eyeshade with headband for cozier wearing.

SKY02S FPV glasses are built-in with two 5.8GHz receiving modules, two antenna ports and two independently-working display modules, bringing you 3D FPV flight experience (SCAM302 3D camera and STX202 two-way transmitters required). The two lens of the 3D camera work in the parallel manner so that 3D effect can be enhanced for close shot and reduced for long shot, bringing people an overall vivid visual experience.
SKY02S FPV glasses can also work in routine diversity reception mode. In such mode, it displays common 2D images. Its radio channel and band settings may be compatible with STX202 and other 5.8GHz transmitters, and in total it supports bands and 40 channels ( see the Specifications Description for details )


Features:
-3D mode (SCAM302 3D camera and STX202 two-way transmitters required)
-2D diversity mode
-HDMI in
-Channel auto searching
-Dedicated eyeshade with headband for more comfortable wearing
-Screen OSD
-Built-in DVR with playback
-Built-in 40CH 5.8G Diversity receiver with raceband, compatible with most FPV 5.8G transmitters on the market (Fatshark,DJI,Walkra,Boscam etc)
-Built-in self-calibrating head tracking (gyro, inertial and compass)
-Built in dual 854X480(WVGA) monitors, 1,229,760 color sub-pixels
-Built-in external camera for surrounding view (640X480,VGA)
-AV in/ AV out/ Earphone socket (with volume control)
-Adjustable interpupillary and diopter for your eyes
-Adjustable brightness and contrast
-Complete plug and play kit
Specifications:
SKYZONE 3D FPV 5.8G 40CH Diversity Receiver Wireless Head Tracing GOGGLE/Video Glasses SKY02S V+ W/ HDMI in & Autoscan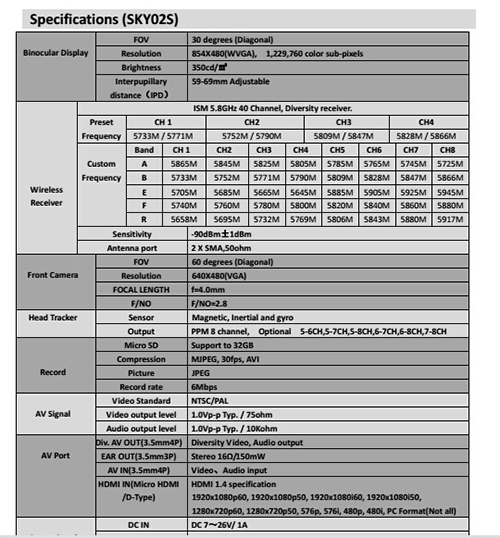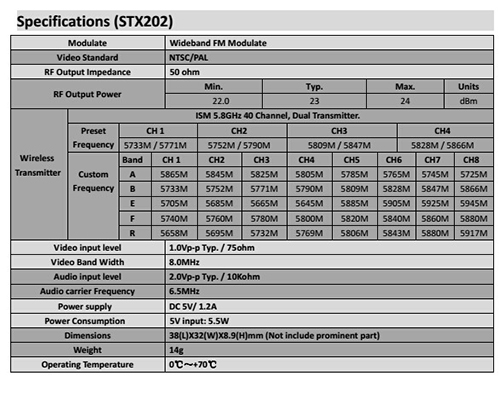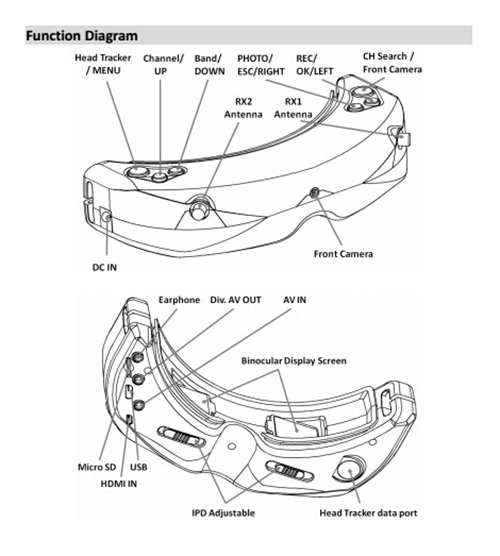 Includes/Requires:
Includes:
1 x SKY02S V+ video glasses
Back to computer version.