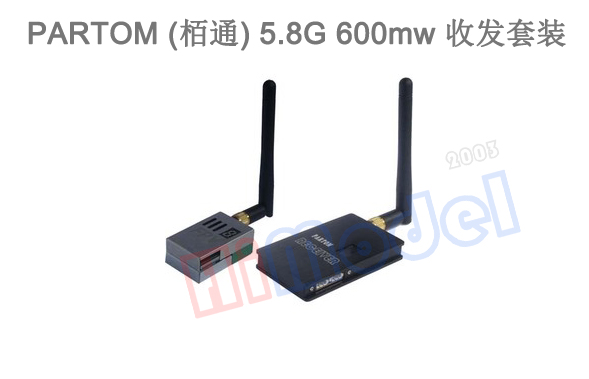 SKU
BT5806
Added
2012/12/24
Updated
2013/03/12
 
Features:
PARTOM 5.8G 600mW 9-ch A/V Transmitting/Receiving System
- Channel number indication makes it easier to use.
- A simple data transmitting channel is deployed, it can transmits Max 4800 TTL data. (* Audio transmitting and data transmitting can NOT be used at same time)
Specifications:
PARTOM 5.8G 600mW A/V Transmitting/Receiving System
Transmitter specs:
Input voltage: DC 7-12V
Consumption current: 400mA
Output power: 28dbM (600mW)
Channel number: 9-ch ; CH1:5.72G CH2:5.74G CH3:5.76G CH4:5.78G CH5:5.80G CH6:5.82G CH7:5.84G CH8:5.86G CH9:5.88G
Dimension: 45.5 x 28.5 x 18mm
Weight: 40g
video format supported: NTSC/PAL
Antenna connection: SMA
*Note: TX antenna must be installed properly before it is switched on, power on without install antenna, or a improper antenna was used may easily burn the TX, and such damage is not covered by warranty.
Receiver Specs:
Weight: 67g
Dimension: 72x43x11mm
Power supply: 12V
Current consumption: 200mA
Channel number: 9
Includes/Requires:
Includes:
1 x transmitter (TX moudle)
1 x receiver (RX)
1 x basic wire set
2 x antennas
Back to computer version.