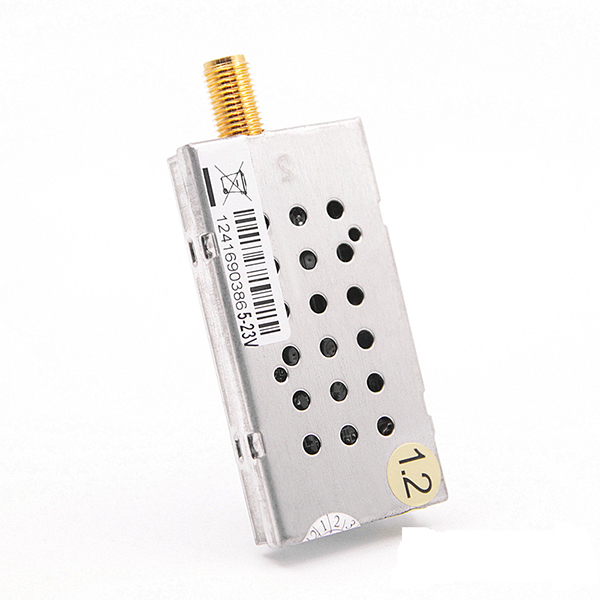 SKU
TM-121800
Added
2018/10/31
Updated
2018/10/31
 
Features:
A compact 1000mW 1.2GHz A/V transmitter module designed for FPV use. An excellent quality unit that has 8 selectable frequencies and audio/video outputs. This transmitter will give you excellent range and very good video clarity.


It utilizes a "Digital Phase Lock-Loop Circuit" without temperature drifting problems. It also features a highly integrated circuit board for ultimate reliability.


Selectable channels: 1080 1120 1160 1200 1010 1040 1280 1280GHz


Features:
• Compact size
• Exceptional range
• Excellent video clarity
• Highly integrated circuit
• Uses "Digital Phase Lock-Loop Circuit" with no temperature drift.
Specifications:
LawMate 1.2G 1000mW FPV Transmitter (VTX) TM-121800


Transmission Frequency: 1.2GHz
Output Power: 1000mW
Channels: 8
Input Voltage: 5V
Modulation Deviation: 2.8MHz FM modulation
Sub-Carrier Frequency: 5.5MHz
Video Input: Impedance = 75ohms
Audio Input: Vp-p
Operating Temperature: -10C~+40C
Weight: 27.5g (transmitter only)
Weight: 76g (transmitter, antenna and supplied A/V lead)
RF Output Connector: SMA
Dimensions: 60 x 25 x 11mm


Note:
Please check with your local authorities regarding operation of this equipment before you purchase. Regulations on power output, usable frequencies and licences to operate vary from region to region.




Includes/Requires:
Includes:
1 x transmitting module (TX only)
1 x antenna
1 x power/AV cable

Requires:
1 x Receiver
Back to computer version.