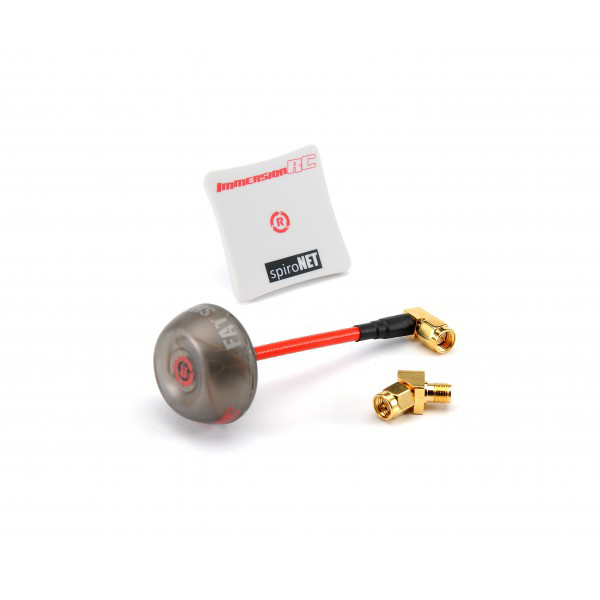 SKU
FS-MGPB
Added
2018/09/21
Updated
2018/09/21
 
Features:
This package might just be the ultimate antenna combination for headset diversity modules at unmatched price. The combination of an Omni, plus a Patch, for headset use, is about as good as it gets. The Patch is far more compact than 'helical' alternatives, and essentially doubles the range of 5.8GHz receivers.


Features
5.8GHz Band Circular Polarization
Fully protected against the elements
Greatly increase usable range compared with a traditional antenna
Light-hand circular polarization
Retooled cap, with a modified translucent plastic composition, now ultrasonically welded onto the base.
Extended frequency response, ideal for 'low band' use during licensed events.
Right angle SMA for a clean installation on goggles, no more bent cables!
Optimal length to ensure that the pilot's head does not block reception.
SMA connector compatible with all FatShark/ImmersionRC 5.8GHz products sold to date
Specifications:
ImmersionRC SpiroNET V2 5.8G Omni Antenna + 8dbi Patch Antenna RHCP Diversity Bundle


Omni Antenna
Gain: 2.15dBi
Circular Polarization: RHCP
Wide 5.2 – 6.0 GHz bandwidth
Connector: Right Angle SMA
Size: 9 x 3.5 x 3.5 cm


Patch Antenna
Gain: 8dBi
Circular Polarization: RHCP
Beam Width: -3dB at +/- 45 degrees
Connector: SMA
Size: 4 x 4 x 2.5 cm

Includes/Requires:
Includes:

1x SpiroNET RHCP Antenna
1x SpiroNET 8dBi RHCP Patch Antenna
1x 45 Degree SMA Adapter
Back to computer version.