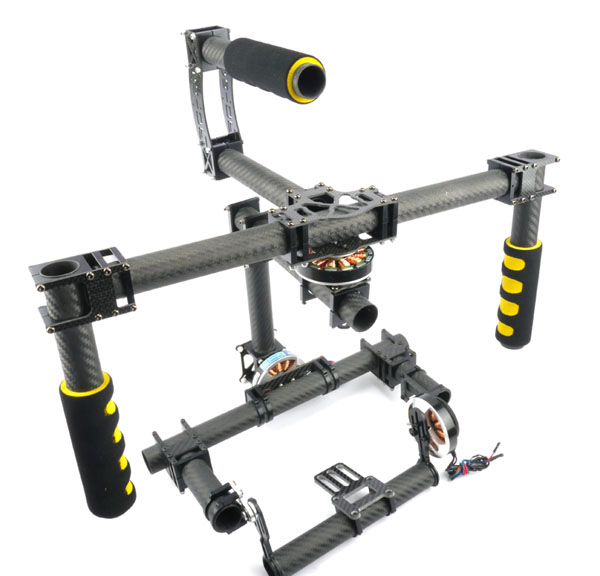 SKU
FC224399
Added
2013/09/05
Updated
2013/09/05
 
Features:
THIS IS THE GIMBAL FRAME KIT VERSION, WITHOUT ELECTRONICS (LIKE MOTORS, CONTROLLER ETC.).
Features:
- Adjustable Center of gravity
- Material:1.5MM Carbon+Aluminum alloy
- Suitable camera: Canon 5D or similar, weight around 2 to 2.5Kg.
Specifications:
Handheld 3-Axis Camera Brushless Gimbal for Canon 5D2 Kit (Without motors)
Suitable camera: Canon 5DII or similar
Material: 3K carbon fiber + metal
Weight of camera: 2000-2500g
Weight of gimbal: 700g (excluding motors); 1300g including 3 motors
Suggested Brushless motor : 3 x
GBM5208-150T (not included)
* Gimbal controller & motors are NOT included. Motors in below diagram are for illustration purpose only.

To buy the
version with 3 x GBM5208-150T motors, click here
.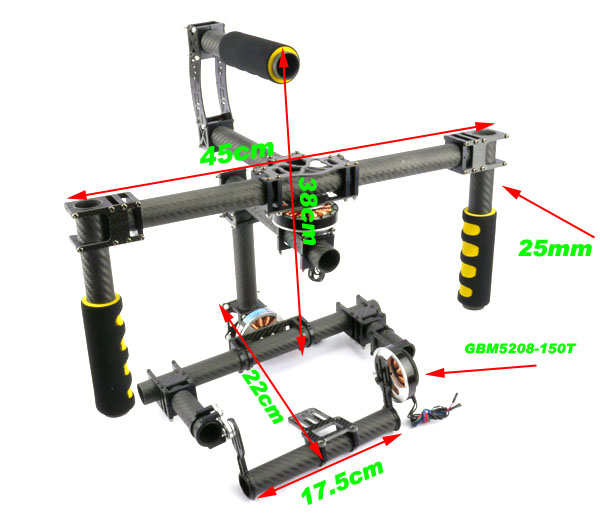 Includes/Requires:
Includes:
1 x gimbal
Requires:
1 x 3-axis brushless gimbal controller
3 x motors
GBM5208-150T

Back to computer version.