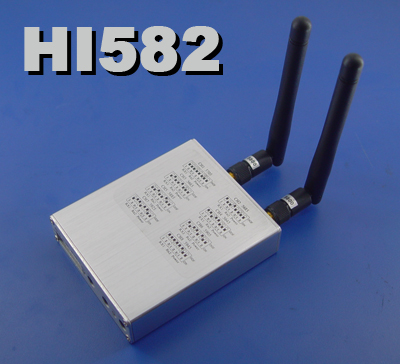 SKU
HI-582
Brand
HiModel
Manual
Manual 1
Added
2012/08/21
Updated
2013/06/19
 
Features:
Features:
 Twin Receiver for best reception
 Automatic Antenna Switching
 Triple, buffered AV outputs
 Can receive 2 different channels at the same time
 Not affect by 2.4GHz R/C Radios
 AV Receiver with Diversity inputs
 Small, light weight,durable,anodized aluminum case
Specifications:
 Receiver Frequency:
CH1: 5705MHz CH2: 5685MHz CH3: 5665MHz CH4: 5645MHz
CH5: 5885MHz CH6: 5905MHz CH7: 5925MHz CH8: 5945MHz
 Video Output: 75Ω/1Vp­p
 Audio Output: 10KΩ/500mVp­p
 TV System: PAL/NTSC/SECAM
 Input Voltage: 12V/500mA
 Weight: 197 g
 Size: 76x64x18mm
Antenna connector: SMA, jack (module side)
Refer to here for connector type diagram
* Plate type antennas are not included (to be purchased separately).
Includes/Requires:
Includes:
1 x receiving unit
1 x basic wires
2 x 5.8g 2db all-direction antennas
2 x video output wires
* hint: when use plate type antenna (not included), you also need SMA adaptor, otherwise you can not connect the antenna to the receiver.
Back to computer version.