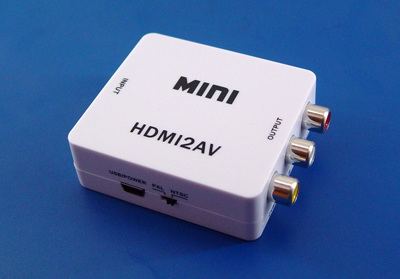 SKU
HDMI2AV
Added
2012/06/09
Updated
2013/11/23
 
Features:
Convert HDMI signal to AV signal.

Popular devices supported: SONY NEX-5, NEX-7, Panasonic GH2, GH1 etc.

Typical application: convert the HDMI signal to AV signal then transmit the AV signal via AV TX/RX system to the ground.

Specifications:
Signal input port type: standard HDMI
Video format supported: NTSC/ PAL
Power supply: 5V (not higher than 5.5V, suggested to use a separate UBEC to power the device)
Audio format: stereo PCM
Video input formats supported: 640*480@60Hz 800*600@60Hz 1280*1024@60Hz 1360*768@60Hz 1600*1200@60Hz 1920*1080@60Hz 480i@60Hz 480P@60Hz 576i@60Hz 576p@60Hz 720P50hz/60Hz 1080I/60Hz 1080P50hz/60Hz
Signal output: standard A/V
Weight: 39g/ 1.4oz
Dimension: 67x55x20mm
Includes/Requires:
Includes:
1 x HDMI conversion module
1 x USB cable
1 x manual

Back to computer version.