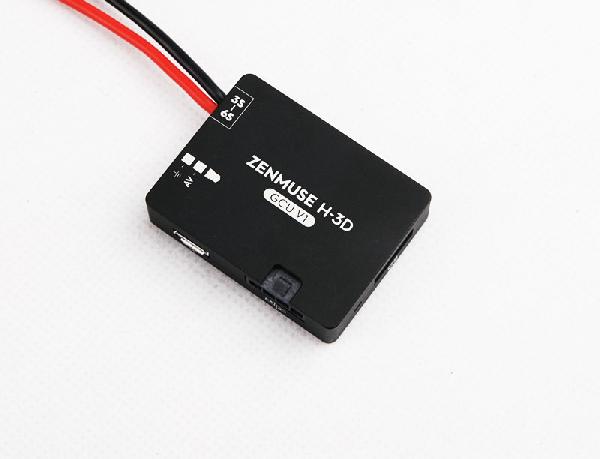 SKU
H3DGCU
Brand
DJI
Added
2015/04/09
Updated
2015/04/09
 
Features:
The GCU for Zenmuse H4-3D Gimbal from DJI is the gimbal control unit required when installing the H4-3D on aircraft other than the Phantom 2. The GCU takes data from inertial sensors, gyros, and other sources to precisely measure aircraft movement. It then instructs the gimbal's servo which way to move to counteract the effects of wind, vibration, and other unwanted motion that can lead to shaky footage and cause the "rolling shutter" effect. The GCU is compatible with select DJI flight control systems.
Note: Additional installation hardware may be required, depending on your configuration. Please refer to the installation instructions in the User Manual.
Supported Flight Control Systems
A2
WooKong-M
NAZA-M
NAZA-M V2
Specifications:
GCU Module for DJI H4-3D Zenmuse Gimbal


System Requirements
Assistant Software: Windows: XP SP3, 7, 8
Connectivity: 1 X Micro-USB for Assistant Software and firmware updates
1 x CAN-bus port (to flight control system)
1 x G8 port (to gimbal)
1 x A/V output on 3.5mm connector (to video Tx)
Power Requirements: 3S to 6S LiPo (12 to 26 VDC)
Dimensions: 1.7 x 1.3 x 0.4" / 42 x 32 x 9.3 mm
Weight: 0.8 oz / 22 g
Includes/Requires:
Includes:
1x GCU Module
Back to computer version.