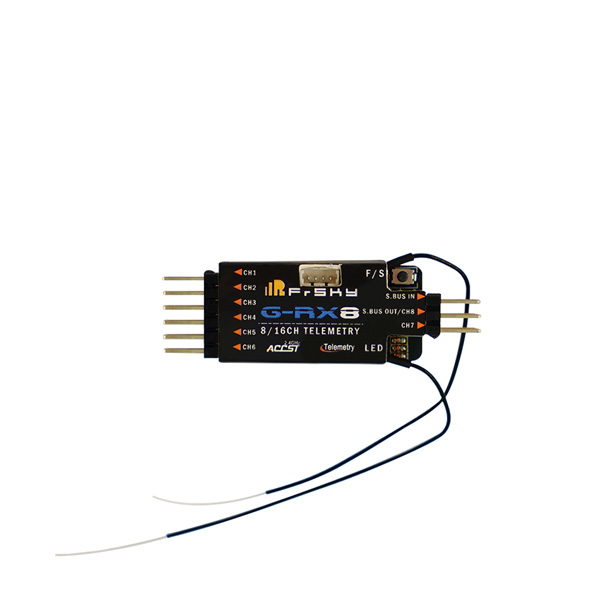 SKU
FRSKY-RX8
Brand
FrSky
Manual
Manual 1
Added
2018/11/07
Updated
2018/11/07
 
Features:
This receiver is designed to be used for the Gliders. FrSky built the variometer sensor into the RX8R receiver, this will give you telemetry data like altitude and vertical speed. The G-RX8 supports the redundancy function as well, this means you can add on another receiver to create a back-up in case one fails. In addition, it supports SBUS and PWM mode, you can switch between the 2 channels very easily.
Specifications:
FrSky G-RX8 8/16ch Telemetry Receiver


Dimension: 55.26*17*8mm
Weight: 5.8g
Number of Channels: 16 CH(1-8ch/9-16ch from conventional channel outputs, 1~16CH from SBUS port).
Operating Voltage Range: 3.6 -10V
Operating Current: 100mA@5V
Operating Range: Full range
Firmware Upgradable
Compatibility: D16 mode
Integrate with high precision variometer sensor
Support redundancy function
Support telemetry data transmission
Switchable SBUS/PWM mode (1~8CH from PWM outputs and 1~16CH from SBUS output)


Includes/Requires:
Includes:
1 x FrSky G-RX8 receiver
Back to computer version.