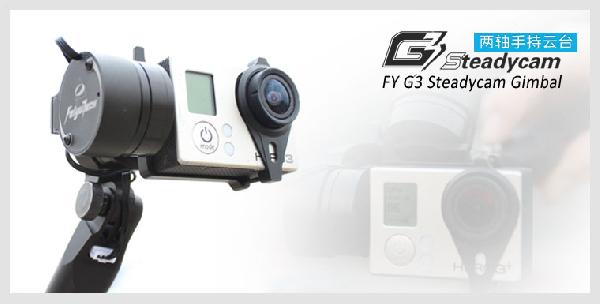 SKU
G3SCAM
Brand
Feiyu Tech
Added
2014/03/18
Updated
2014/03/19
 
Features:
Introduction
G3 Steadycam two axis handheld gimbal allows you to use your little GOPRO easy to shoot the videos and photos as smoothly as movies, let you share your life with your relatives and friends in anytime and anywhere. You will always be the focus of the life no matter when and where you are, let the multi-angle, smooth and clear records to become the eternal memory.All of this will easy to realize in your hands. Soon it will become your travel must-have items.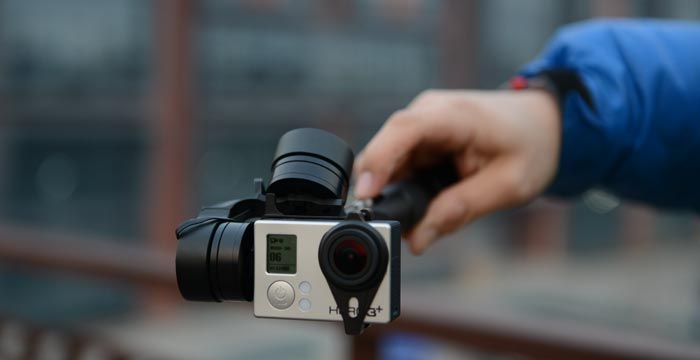 Feature
Steadycam, by Steady+ cam (the first three letters of "camera") make up, G3 Steadycam handheld gimbal is light weight, easy to carry, simple to use, power-and-go,also has electronic slow to follow mode which a mechanical stabilizer cannot do that, and it can steady the up and down before and after. Compatible use with GOPRO3 , GOPRO3+.
Convenient and practical power switch design, integration lightweight design and delicate appearance. It can help you easily to achieve the shooting of fast moving, chasing, steering, and low angle.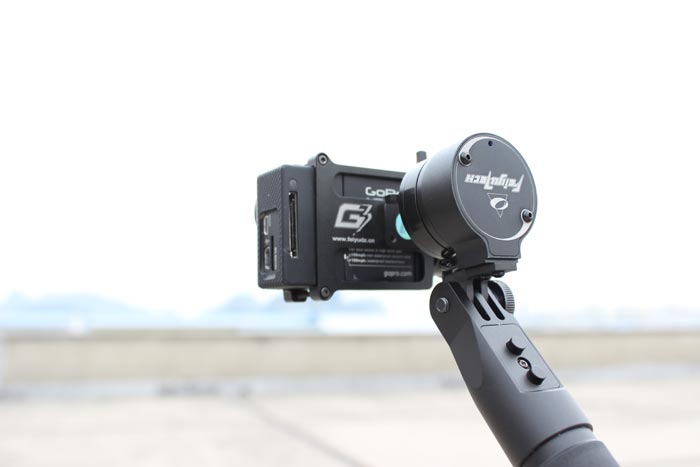 I
It designed to be powered with 3pcs Type 16340 Lion batteries (suggested battery capacity 1800mAh, voltage of 16340 battery is 3.7V per cell), The use time of 1800mAh 16340 battery is over 2 hours.
(* The 16340 batteries are NOT included in this kit)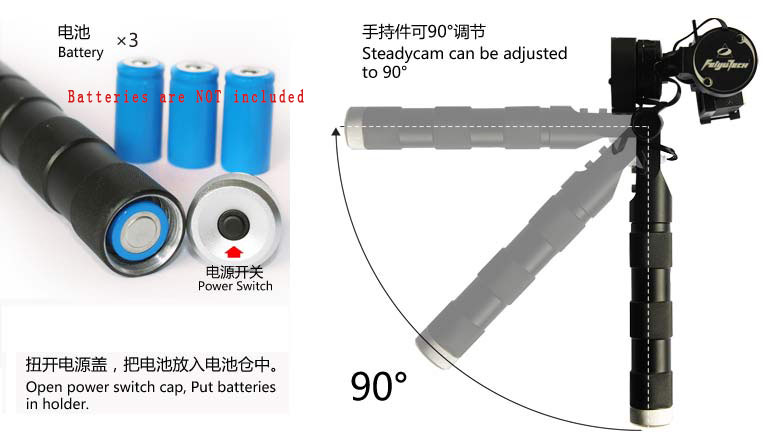 Feiyu tech kindly remind you: You should first amount the GOPRO to gimbal, then put on the batteries and power on. Otherwise it will cause the phenomena of gimbal disorderly shaking.
Specifications:
FeiYu G3 Steadycam 2-Axis Handheld Gimbal For Gopro 3
Includes/Requires:
Includes:
1x handheld bushless gimbal
* This is a gimbal only,
camera etc. are not included
.
Requires:
3 x batteries (type 16340, 1800mAh or similar, battery diameter 16mm, length 34mm, voltage 3.7V per cell)
* The batteries are NOT included in this kit, this overrides any discrepancies mentioned elsewhere like packing, instruction manual etc.
Back to computer version.