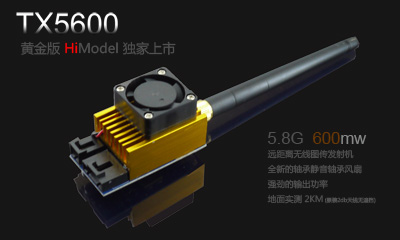 SKU
FV5806
Added
2012/10/30
Updated
2013/04/07
 
Features:
FPV 5.8G 600mW A/V Transmitting module, Golden edition.
Special features:
- Utilized ball bearing fan, noise and vibration is greatly reduced.
- Ground range up to 2KM with stable video transmitting. (Normally air to ground range is much longer than ground to ground distance)
Specifications:
FPV 5.8G 600mW A/V Transmitter Module (TX) - Golden Edition
video format supported: NTSC/PAL
Antenna connection: SMA, jack (TX module side)
See connector type diagram
Power input: 7.4-13V (3S Lipo suggested, does NOT support 4S Lipo)
Transmitting power: 600mA (working current 230mA @12V)
Weight: 52g/ 1.8oz
Dimension: 59x30x33 (excluding antenna)
*Note: TX antenna must be installed properly before it is switched on, power on without install antenna, or a improper antenna was used may easily burn the TX, and such damage is not covered by warranty.
Includes/Requires:
Includes:
1 x transmitting unit (TX)
1 x TX antenna (2db)
* No instruction manual supplied with this product.
Requires:
1 x receiving unit (RX)
Comments:
The TX antenna is intentionally glued at factory, please do not try to remove it, TX damage due to replacing/removing the antenna is NOT covered by warranty.
Back to computer version.