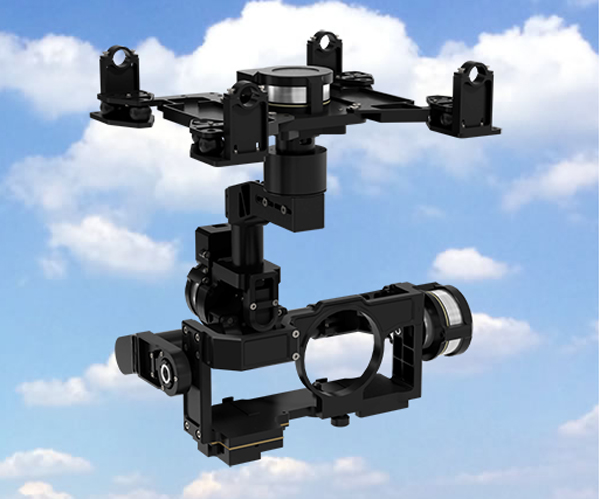 SKU
DJIGH4
Brand
DJI
Added
2015/04/20
Updated
2015/04/20
 
Features:
Another Evolutionary 3-axis Professional HD Gimbal
The DJI Zenmuse Z15-GH4 (HD) gimbal, an upgraded version of the popular Zenmuse Z15-GH3, represents a breakthrough in Zenmuse precision, offering a control range of just ±0.01°. When used with a DJI professional aerial system, your Panasonic GH4/GH3 remains stable and under control even in strong winds and during intense maneuvers.
Built for the Panasonic GH4/GH3
Each Zenmuse is guaranteed to deliver nothing short of the best in camera control and stabilization. The Zenmuse Z15-GH4 (HD) is built specifically for the the Panasonic GH4 and GH3, so either camera fits perfectly in the gimbal. The Panasonic GH4 is known for its digital film quality images and small body, making it ideal for aerial cinematography and photography. The Zenmuse Z15-GH4 (HD) gimbal connects with your GH4 through a standard HDMI cable, but if you are using a Panasonic GH3 with the gimbal, please use the included GH3 HDMI cable.
HDMI-HD/AV Module
Weight is minimized by using a small video output module that allows you to control the camera shutter and other features while transforming the camera's HDMI signal into a first-person-view AV signal. Wiring has been kept to a minimum to further reduce weight. You can easily switch between HD and AV output. The HD output works perfectly with the DJI Lightbridge digital video downlink,and the AV output works with a 5.8G analog video downlink.
3-axis Rotation Control
The 3-axis Zenmuse Gimbal system's creative mechanical design makes control through the transmitter stick both intuitive and easy. Its internal slip rings avoid complicated wiring. Both power and signal lines have been integrated into gimbal's tubes, resulting in a completely unhindered control axis that offers a maximum yaw of ±360°, pitch of +50°/-140° and a roll of ±40°.
platforms
· SPREADING WINGS S1000
· SPREADING WINGS S900
· SPREADING WINGS S800 EVO
A Total Solution
The Zenmuse Z15-GH4 (HD) is ideal for the S800 EVO, S900 and S1000 flight platform and works with other DJI products including the A2 and WooKong-M multirotor flight controllers. Used with the DJI Lightbridge HD digital video downlink or an iOSD Mark II and a 5.8G video link, it is a Total Solution for aerial photography and cinematography.
Multiple Control Modes
Three camera control modes are offered to maximize creativity and ease of flight. Orientation-locked, Non Orientation-locked and Back to Mid-point (Horizontal). All three modes can be switched between, quickly and easily in line with the needs of each shoot.
Orientation-locked
Non Orientation-locked
Back to Mid-point
Gimbal Servo Drive Module
What gives every Zenmuse its precision is our specially designed Gimbal Servo Drive Module. Each of these is tailored to the weight and balance of the camera it has been designed to move. This significantly improves control and stability, maximizes torque, while minimizing vibration.
Built-In Independent IMU Module
A new stabilizing algorithm providing more stability than ever before and extremely precise induction devices combine to create effortless attitude control. With these in place, the S1000 needs no extra equipment installation or wiring, making it easier to get shooting faster.
Specifications:
DJI Zenmuse Z15-GH4 (HD) 3-Axis Gimbal for Panasonic GH4


Peripheral

Supported Camera

Panasonic GH4/GH3

Supported Lens Currently

OLYMPUS M.ZUIKO DIGITAL ED 12mm f2.0

GCU Input Power

4S~12S LiPo (Recommend 6S if used with the S800 EVO or S1000)

Control Requirement

Minimum of four spare receiver channels

Assistant Software System Requirement

Windows XP SP3; Windows 7; Windows 8 (32 or 64 bit)

Mechanical& Electrical Characteristics

Working Current

Static current: 200mA (@25V)

Dynamic current: 400mA (@25V)

Locked-rotor current: 4A (@25V)

Operating Temperature

-10°C ~ 50°C

Weight

1.26Kg

Dimensions

233mmX210mmX192mm

GCU Weight

63g

GCU Dimensions

64.2 mm ×34.1mm ×19.5mm

Working Performance

Load Weight (Reference Value)

690g(@Panasonic GH4 with OLYMPUS M.ZUIKO DIGITAL ED 12mm f2.0, Battery and SD Card)

Controlled Angle Accuracy

±0.01°

Maximum Controlled Rotation Speed

Pan axis: ±130°/s

Tilt axis: ±130°/s

Roll axis: ±30°/s

Rotation

Pan axis control: ±360° continuous rotation
Tilt axis control: +50°/-140°
Roll axis control: ±40°
Includes/Requires:
Includes:
1x Zenmuse Z15-GH4 (HD) 3-Axis Gimbal
* This is the gimbal only, Camera or drone are NOT included.
Back to computer version.