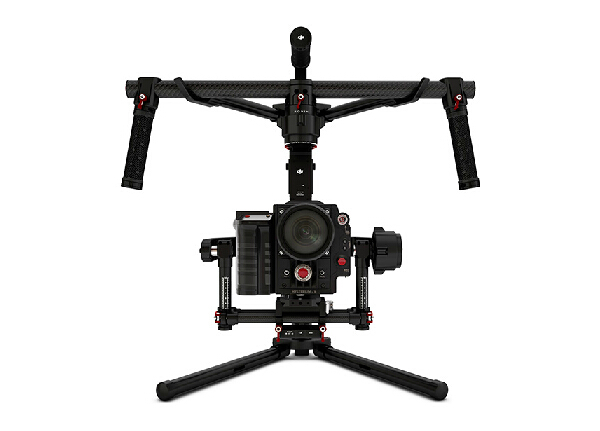 SKU
DJIRONIN
Brand
DJI
Added
2014/08/16
Updated
2014/08/19
 
Features:
The DJI Ronin has been developed for the filmmaking professional. High build quality standards ensure that it keeps up with the demands of rigorous handheld use in trying environments. Simply hold it in your hands to create smooth and stable footage. Custom built ultra-fast processors, extremely accurate sensors, and advanced algorithms, together with fanatical attention to detail has created a system that offers remarkably precise manipulation of control angles - within the range of ±0.02°. This puts world-class, industry leading technology into your hands and creates unparalleled picture and video stabilization.

Specifications:
DJI Ronin 3-AXIS STABILIZED HANDHELD GIMBAL SYSTEM
Supported Camera Dimensions

General

Three Operation Modes
· Underslung Mode
· Upright Mode
· Briefcase Mode
Built-in independent IMU module
DJI Specialized Gimbal Drive Motors with Encoders
Bluetooth Module
USB Connection
2.4GHz Receiver
Temperature Sensor
DJI Advanced 32-Bit DSP Processor
D-Bus/PPM Receiver Supported

Peripheral

Accessory Power Connections

12V regulated P-Tap x 2, USB 500mW x 1, DJI Lightbridge x 1

2.4GHz Remote Control, Bluetooth, USB

PC Assistant Software Requirements

Windows XP SP3; Windows 7; Windows 8 (32 or 64 bit)

Mobile Assistant Software Requirements

iOS version 6.1 or above Mobile Device iPhone 4s, iPhone 5, iPhone 5s, iPod touch 4, iPod touch 5 , iPad 3, iPad 4, iPad mini

Mechanical & Electrical Characteristics

Static current: 300mA (@16V)

Dynamic current: 600mA (@16V)

Locked motor current: Max 10A (@16V)

-15°C ~ 50°C (5°F ~ 120°F)

4.20kg (9.26lbs) fully loaded with handlebar

620mm(W) x 280-380mm (D)x 500mm(H)

Supported Camera Dimensions

Maximum depth at center of mass on camera base plate: 140mm

Maximum height measured from top of camera base plate: 225mm

Maximum width: 195mm

Working Performance

Load Weight (Reference Value)

7.25kg (16lbs)

Controlled Angle Accuracy

0.02°

Maximum Controlled Rotation Speed

Pan axis: 90°/sec

Tilt axis: 100°/sec

Roll axis: 30° /sec


Controlled Rotation Range

Pan axis control: 360°
Tilt axis control: Up 45° to Down 120°
Roll axis control: ± 25°
Includes/Requires:
Includes:
1x DJI Ronin 3-AXIS STABILIZED HANDHELD GIMBAL SYSTEM
* Battery is NOT included (11.1V 5200mAh is recommended).
Back to computer version.