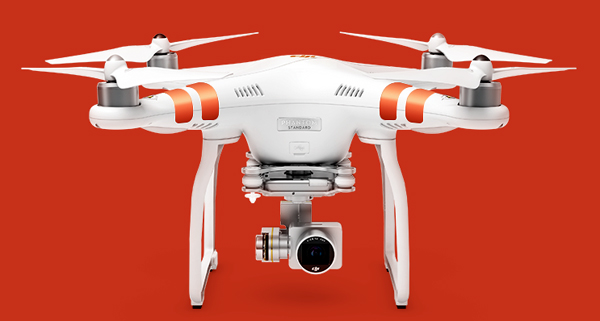 SKU
PHT3ST
Brand
DJI
Added
2015/08/28
Updated
2015/08/28
 
Features:
This is the DJI Phantom 3 Standard Ready-to-Fly Quadcopter Drone Helicopter with Integrated HD Camera and 3-Axis Gimbal System for HD 2.7K video and 12M still image capturing. Safe, easy, and fun to fly, the Phantom 3 Standard makes it possible for everyone to reach for the sky. With an intuitive flight system, built-in camera, live 720p HD FPV view on mobile devices, and more, the Phantom 3 Standard is an excellent platform for even the newest aerial photography pilots. On top of all that, the included Intelligent Flight battery provides flight times of nearly 25 minutes!

AUTOMATIC FLIGHT ASSISTANT
Fly with absolute freedom and confidence, knowing your Phantom 3 Standard will return to you at the press of a button. Built-in GPS records your Phantom's takeoff point and remembers it as you fly. Then at your command, or if the control signal is ever lost, your Phantom comes back to you instantly.

Your Phantom 3 Standard stays stable and under your control at all times during flight. After takeoff, it automatically hovers in place, waiting for your command. It then effortlessly changes altitude or direction at the flick of a finger. When you want it to stop, it again pauses and hovers, waiting for your next instruction.

EASY, ASSISTED FLIGHT
Flying a Phantom 3 Standard is easy. The first time and every time. Your Phantom automatically keeps itself in the air, level and steady. Flying has never been this easy.

AUTO-HOVER
When you stop telling it to move, the Phantom 3 Standard hovers perfectly in place, holding both position and altitude. It waits for you to give it instructions. This means all you need to think about is where you want to fly.

SAFE FLIGHT LIMITS
Set height and distance limits to keep all flights within a safe area. The Phantom 3 Standard will automatically stop and stay inside of your chosen limits as you fly.

LIVE GPS
Throughout each flight, your Phantom 3 Standard sends its position to a live GPS map on your mobile device. Use this map to see right where it is, know which direction it is facing, and guide it back to you in an instant.

Because the Phantom knows where it is and where you are, it can calculate how much longer it can continue flying. It will send you a reminder to land when the battery runs low, and it can automatically come home and land when needed.

WORRY-FREE, EVERY TIME
When you are flying, you always know where your Phantom is, and it is always ready to come back to you. With built-in Return to Home, the Phantom 3 Standard remembers where you took off from and comes back when you are finished flying. So enjoy your flight, tap a button, and your Phantom is back in your hands, safe and secure.

STATUS AND DIRECTION INDICATORS
Four bright, large LED lights on each arm of the Phantom 3 Standard light up as you fly. So at a glance, you know which direction your Phantom is facing and its current status.


YOUR FLYING CAMERA
Record moments that you want to remember forever, and share those moments in an unforgettable way. The Phantom 3 Standard gives you an all new perspective of sports, parties, and family events with a built-in camera that captures sharp, vivid 2.7K HD video and 12 megapixel photos.

Shaky photos and video can ruin even the most impressive scenes. Keeping the camera perfectly stable is a precision engineered 3-axis gimbal, giving your footage a little movie magic. As the Phantom tilts and turns, the gimbal holds the camera flat and level, eliminating all unwanted shake.

Putting a camera in the sky makes everything you capture more exciting and fun to watch. Take unbelievable photos, shoot videos of friends and family, and record life's moments in ways you never thought possible. With the Phantom 3 Standard, share your aerial photos and videos instantly to your favorite social networks and amaze your friends.

STUNNING PHOTOS AND VIDEO
The built in camera shoots 2.7K video, which is almost 3 times as clear as the picture on your HD TV, at 30 frames per second and a maximum of 40 Mbps. Or record in full 1080P HD to capture every frame and never miss a moment.

Photos from the Phantom 3 Standard come out in 12 megapixel JPEG or DNG RAW format that look as great printed out as they do on the screen. A 1/2.3" sensor, fast f/2.8 prime lens, and a preset focus are all optimized for aerial images that give you awe-inspiring results.

CLEAN, ACCURATE IMAGES
Most flying cameras suffer from a distorted, or "fisheye", image. The Phantom 3 Standard is equipped with a custom built lens with a 94-degree field of view that gives you a perfect image that is nearly distortion-free and a more accurate depiction of the world below.

MOVIE-QUALITY STABILIZATION
Keeping the camera stable and shake-free is crucial to creating beautiful images, whether on the ground or in the air. This is why a good stabilization gimbal is so important. The 3-axis gimbal that holds the camera on your Phantom 3 Standard is evolved from the same technology found in high-end equipment that is relied on by Hollywood filmmakers and gives you stable footage every time.

The Phantom 3 standard naturally banks and rolls as you fly, but the gimbal responds instantly and keeps the camera perfectly level. So your photos look sharp and your videos stay smooth, no matter how you fly.

A VIEW FROM ABOVE
See exactly what your camera sees with a live HD video feed right on your mobile device. The Phantom 3 Standard creates its own WiFi network that streams a real-time view from the camera. Frame your shots, watch the world below, and see everything from a new perspective.

INTUITIVE, POWERFUL FLIGHT
Enjoy the thrill of flight as you speed through the air. Powerful, responsive motors send your Phantom soaring exactly on the path you want. Stop in place, speed up, or fly higher in an instant.

Curved DJI electromagnets are used to spin the motors at high, controllable speeds - all by using magnetic force, without any physical contact, to increase durability. Advances in efficiency and reliability push the limits of current technology and give you longer flights.

ULTIMATE CONTROL
Full control is in your hands with a remote controller built specifically for the Phantom 3 Standard. Precise control sticks command flight, while a dial lets you tilt the camera to see more. With a built-in rechargeable battery, a clamp to hold your mobile device, and a range extender for up to 0.62 mile (1km) range, this powerful remote makes flying easy and fun.

FLIGHT MADE EASY
A custom-built remote controller keeps your Phantom 3 Standard under your command at all times. The ergonomic design is easy to hold and lightweight, and all the controls you need are right at your fingertips. With this remote, it's easy to fly the way you want.

HALF-MILE RANGE
Fly up to 10 football fields away without worry. A high-powered 5.8GHz transmission frequency keeps the Phantom responsive, even when flying at distances of up to 0.62 mile (1km) away.*

*Maximum flight distance may vary with environmental conditions and local regulations.

TILT THE CAMERA
Aim the camera by using the gimbal control dial on top of the remote. Tilt it up and down to see more and frame the perfect shot.

PRECISION CONTROL
Easy to grip control sticks enable accurate, precise flight. Everything from minute position adjustments to full speed flying is instant and intuitive. These spring-loaded sticks automatically center when you let go, freezing the Phantom in place. So you can frame your shot, check the map, and plan your next move while it hovers and waits.

BUILT-IN WIFI
Linking your mobile device to your Phantom through the DJI GO app is easy with an enhanced WiFi range extender that's built right into the remote controller. Connect to the Phantom's WiFi network to see a live view, access advanced camera controls, and more.

LONG FLIGHTS, LONG LIFE
For ease of use, a rechargeable 2600 mAh LiPo battery is integrated into the remote controller. Bright LEDs on the front tell you the remaining power at a glance, and it will beep to remind you when the power runs low. The remote is easily recharged by USB, no matter where you are.

MORE FLYING, MORE FUN
Fly for up to 25 minutes on a single charge. The patented DJI Intelligent Flight Battery continuously tells you exactly how long you can continue flying, based on how far and at what altitude you are, and it alerts you when it's time to head back. This information is streamed live to the GO app on your mobile device.

Recharging is quick and easy, and bright LED indicators tell you current status and power level. A protective plastic housing helps prevent damage and contains intelligent sensors that make your battery worry-free while extending the life of your battery.
Specifications:
DJI Phantom 3 Standard Quadcopter w/ 2.7K UHD Camera & 3-Axis Gimbal - Standard (one battery)

Aircraft
Weight (including battery): 1216 g
Max Ascent Speed: 5 m/s
Max Descent Speed: 3 m/s
Max Speed: 16 m/s (ATTI mode, no wind)
Max Altitude Above Sea Level: 6000 m
Max Flight Time: Approximately 25 minutes
Operating Temperature: 0 deg C to 40 deg C
Navigation system: Built-in GPS

Gimbal
Controllable Range: Pitch -90 to +30 deg
Angular Vibration Range +/-0.02 deg

Camera
Sensor: 1/2.3" Effective pixels:12 M
Lens: FOV (Field Of View) 94° 20 mm (35 mm format equivalent) f/2.8
ISO Range: 100-3200 (video) 100-1600 (photo)
Electronic Shutter Speed: 8s -1/8000s
Image Max Size: 4000 x 3000
Still Photography Modes

Single Shot
Burst Shooting: 3/5/7 frames
Auto Exposure Bracketing (AEB): 3/5
Bracketed Frames at 0.7EV Bias
Time-lapse
Video Recording Modes
UHD: 2.7K: 2704 x1520p 30 (29.997)
FHD: 1920x1080p 24/25/30
HD: 1280x720p 24/25/30/48/50/60

Max.Video Bitrate: 40 Mbps
Supported File Formats

Micro SD Card: FAT32/exFAT
Photo: JPEG, DNG
Video: MP4, MOV (MPEG-4 AVC)
Supported SD Card Types: Micro SD Card 8 GB included

Wi-Fi Video Link
Max Transmission Distance: FCC: 1000 m; CE: 500 m (outdoors and unobstructed, aircraft's altitude at 400 feet (120 m))

Remote Controller
Operating Frequency: 5.725 GHz - 5.825 GHz
Max Transmission Distance: FCC: 1000 m; CE: 500 m (outdoors and unobstructed, aircraft's altitude at 400 feet (120 m))
Battery: 2600 mAh LiPo (rechargeable)

Charger Rated Power: 57 W

Intelligent Flight Battery (PH3-4480 mAh-15.2 V)
Capacity: 4480 mAh
Voltage: 15.2 V
Battery Type: LiPo 4S
Energy: 68 Wh
Net Weight: 365 g

Max Flight Time: Approximately 25 minutes

App / Live View
Mobile App: DJI GO
Live View Quality: 720P @ 30fps (depending on conditions and mobile device)

Required Operating Systems: iOS 8.0 or later

Recommended Devices
iOS: iPhone 5s, iPhone 6, iPhone 6 Plus, iPad Air, iPad Air Wi-Fi + Cellular, iPad mini 2, iPad mini 2 Wi-Fi + Cellular, iPad Air 2, iPad Air 2 Wi-Fi + Cellular, iPad mini 3, and iPad mini 3 Wi-Fi + Cellular. This app is optimized for iPhone 5s, iPhone 6, and iPhone 6 Plus

Android: Samsung tabs 705c, Samsung S6, Samsung S5, Samsung NOTE4, Samsung NOTE3, Google Nexus 9, Google Nexus 7 II, Ascend Mate7, Nubia Z7 mini, SONY Z3 EXPERIA, MI 3, MI PAD

*Support for additional Android devices available as testing and development continues.

Requires: Mobile device is not included

Before first use, firmware should be checked/updated to ensure it is running the latest release from DJI. Always run the current recommended firmware and mobile software from DJI.
Includes/Requires:
Includes:
1 x DJI Phantom 3 Standard
1 x battery
Back to computer version.