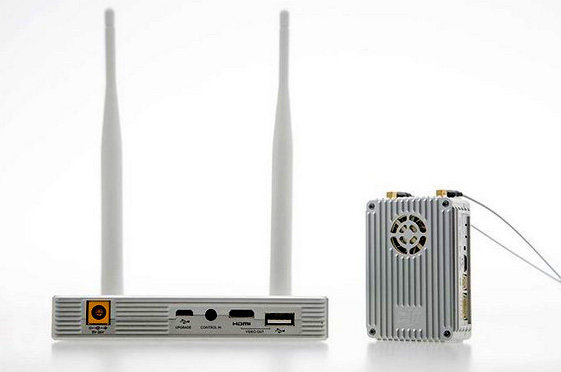 SKU
GQSZTC
Brand
DJI
Added
2014/08/16
Updated
2014/08/19
 
Features:
DJI Lightbridge is a revolutionary 2.4G Full HD digital video downlink offering extremely powerful technology in a small and lightweight form. By offering 1920 x 1080p@30fps video data transmission from up to 1.7km (1.05miles) away, it's the ideal solution for professional aerial creators and FPV users. It features an aluminum alloy casing, and extreme internal and external shielding for interference protection. Recharging can be done through the supplied charger or a 3S~6S Li-Po battery. Each charge lasts for up to 4.5 hours. Give your creativity a boost with pin sharp imagery today.
Features
The First All DJI 2.4G Full HD Digital Video Downlink

Up to 1.7 km (1.05 miles) long distance transmission
Up to 1080p60 input and 1080i60 output support
Low latency. Maximum latency of approximately 150ms.
Use with other low latency film making equipment for the best experience.
Master-Slave Mode

One ground system sends control signals and receives video, additional ground systems receive only video.
Dual Video Input Support

DJI Zenmuse HD gimbal input support.
Simultaneous HDMI and AV input support allows pilot monitoring and camerawork at the same time using just one system.
Aluminum integrated electromagnetic shielding design
Multiple Mobile Device and HDMI HD Display Support

Charges USB devices, increasing on-set functionality.
USB 2.0 image data output for iOS and Android synchronization.
Android 4.1.2 or above recommended.
Advanced Security

Encryption ensures only authorized devices receive data. Encryption can be set up through the Lightbridge app.
Multiple downlinks can be connected for parallel streaming. Each can work independently without interference.
Use with DJI multirotor flight controllers to make your flights even safer.



Specifications:
DJI Lightbridge 2.4G FULL HD DIGITAL VIDEO DOWNLINK



Performance Parameters

Transmission Distance (Outdoor And Unobstructed)

1.7 Km

Receiver Sensitivity(1%PER)

-101dBm ±2dBm

Ground System Antennas Gain

5.0±0.7dBi@2450MHz

Physical Parameters

Air system: 68mm(L)X48mm(W)X21mm(H)
Ground system: 125mm(L)X90mm(W)X20mm(H)

Gross Weight (No Antennas)

Air system: 71g
Ground system: 295g

Hardware Functions Supported

MMCX Male (air system), SMA Male (ground system)

Air System Operating Voltage

3S~6S

Ground System Operating Voltage

3S~6S

Air System Operating Amperage

700mA ±20mA(@12V)

Ground System Operating Amperage

600mA ±10mA(@12V)

DJI Lightbridge Application Equipment

AV

HDMI

720p50
720p60
1080i50
1080i60
1080p25
1080p30
1080p50
1080p60

Recommended Mobile Device

Samsung Galaxy Note3 QCOM, N9005, N9006
Samsung Galaxy Note3 Exynos, N900
Samsung Galaxy S4
Samsung Galaxy Mega
Optimus G Pro
LG Electronics
LG Electronics G2
Sony Xperia Z (L36h)
Sony Xperia Z Ultra (XL36h)
Samsung Galaxy Tab Pro 10.1"
Samsung Galaxy Tab Pro 8.4"
Samsung Galaxy Note 10.1"
Google Nexus 7 32 Gb LTE
Google Nexus 7 16 Gb Wifi
LG 8.1" Tablet

System Requirement Of Mobile Device

Android system (version 4.1.2 or above)

Supported HD Display Device

Konka 32-inch LED32M1200AF
Konka 42-inch LED42M3820AF
Konka 42-inch LED42X9600UF
Skyworth 55E680E
TCL L40F3309B
TCL 4K*2K Smart 3D Cloud TV L5E5690A-3D
Konka LED46F5580F
LG 27EA33 Monitor
12-inch ORTECA Portable Monitor
7-inch FEELWORLD Portable Monitor
27-inch SAMSUNG S27D360H Monitor
Ideal LED TV 3261
Zeiss Cinemizer
Vuzix Wrap 1200DXAR
Vuzix M2000AR
SONY HMZ-T3W-H
Samsung 28" TV 1080i 60Hz
LG 55LA6200 55" 1080i 60Hz
ikan VH8 8"
Samsung 46" TV (model 7080)
Samsung UE40D7080 HDTV
Scott TVX150 HDTV
Feelworld 10.1" FPV monitor (450cd/m2 version)
Feelworld 7" FPV DVR monitor
Lilliput 664/w 7" IPS field monitor
Lumenier 10.1" LCD monitor
Lilliput 7" monitor
Sony HMZ-T2 video goggles
Phottix Hector 7HD
Includes/Requires:
Includes:
1 x DJI Lightbridge
Back to computer version.