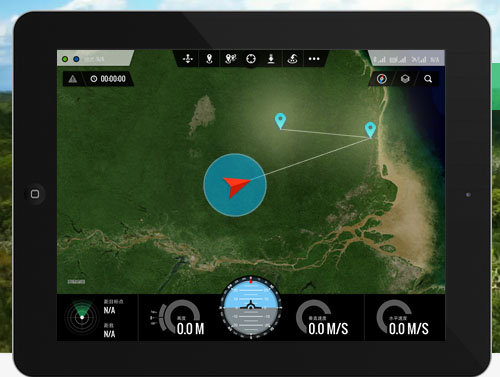 SKU
IOSDMZ
Brand
DJI
Added
2015/04/14
Updated
2015/04/14
 
Features:
The DJI iOS Ground Control Station (GS) App is for the iPad 3 / 4 / Air and Mini offers full support for all of DJI multi-rotor flight controllers, the DJI iOS can access the parameters to allow the user to change them with ease or set waypoints wirelessly from an iPad. These additional features from DJI iOS Ground Station will give both the hobby and aerial photography professionals another tool to conduct fun or professional flights with a real time mapping and flight data clearly displayed to monitor the multi rotors progression and key flight information.

The DJI iOS Ground Station comes with the click & go function, 50 waypoints for the WooKong M and 16 waypoints for the Naza M V2, these are enabled after a firmare upgrade to flight controller, you are now just a few taps away with the iOS Ground Station from ways point flights!
The iOS Includes the 2.4 GHz Bluethooth Datalink and Way point licence.
Specifications:
DJI IOS GS GroundStation Combo (2.4Ghz Bluetooth Datalink + WAYPOINT)
RF Data Rate: 1536kbps
Indoor/Urban Rangenge = 350m (FCC) = 200m (CE)
Outdoor/RF Line-of-Sight Range = 2km (FCC) = 1.1km (CE)
Transmit Power 160mW
Receiver Sensitivity (1%PER) -94dBm
Power Consumption Ground: = 2.2W / Air: = 2W
Frequency Band 2.4GHz (2400MHz ~2483MHz)
Serial Data Rate 115200 bps
Antenna SMA
Operating Temperature -10¡ãC ~ +60¡ãC
Operating Humidity 0 ~ 95%
Size (No Antenna) Ground: 73mm x 47.8mm x 17.1mm / Air: 49.8mm x 36.4mm x 11.4mm
Weight (With Antenna) Ground: 92g / Air: 31g
Power requirement, Supply Voltage Ground: 3S-6S Battery / Air: 6V
Transmit Current 176mA
Receive Current 325mA
FCC (USA) Yes
CE (UK & EU) Yes
Includes/Requires:
Includes:
1 x 2.4Ghz Ground Station Transmitter (Put it close to you, 9.9V-25.2V Input)
1 x 2.4Ghz Data Link Receiver (Put on the Drone, 6V Input)
1 x BTU Module (Bluetooth unit, this is the door for your iPad to the Ground Station)
1 x Ground Station Software CD-ROM
1 x Long 2.4Ghz Antenna for the Ground Station Transmitter
1 x USB cable for the Ground Station Transmitter
1 x Bus cable for the onboard data link receiver
1 x 5mm DC plug for the Ground Station Transmitter

Back to computer version.