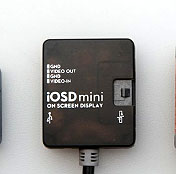 SKU
IOSDMINI
Brand
DJI
Added
2014/08/15
Updated
2015/05/08
 
Features:
The TeleFlyOSD is the audio modem which encodes the GPS data and sends it down to the ground via the audio channel of your AV transmitter.

(The TeleFlyOSD replaces the TeleFlyLite (Discontinued). It has the same basic function as the old TeleFlyLite. It works as an audio modem but adds a simple OSD feature for FREE since it is the same price as the old TeleFlyLite.)

OSD Features are:

· Flying Time

· Virtual compass

· GPS status

Flying Time
Virtual compass
GPS status
Battery voltage (with extension board)
current amperage (with extension board)
Home Arrow
Distance to Home
Height
Speed
· For some of these features you will need the TeleFlyOSD-Extension Board. (Not yet available)



Buy spares if you like to have all your planes ready for tracking at any time.


Specifications:
DJI IOSD MINI OSD Module
The Naza-M now supports iOSD Mini, offering you real-time display of flight parameters on your monitor. This ensures you have the live status of your aircraft immediately and enjoy a safe, reliable flight, while undoubtedly giving you a fantastic FPV flight experience.


Voltage: 6V


Working Temperature: -20℃~+60℃


Video Input/Output Mode: PAL/NTSC(automatically recognize)


Weight: 14g


Working Current (Typical Value): 180mA@6V
Includes/Requires:
Includes:
1 x OSD module


Back to computer version.