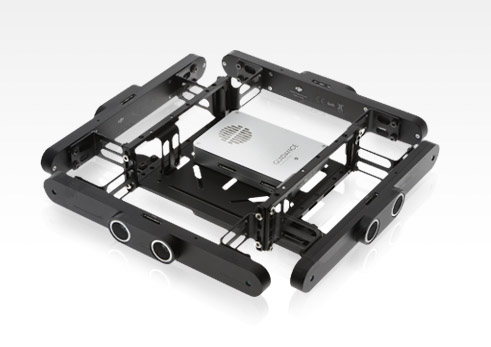 SKU
GUIDANCE
Brand
DJI
Added
2015/06/16
Updated
2017/08/12
 
Features:
Overview
Guidance is a revolutionary visual sensing system. With a powerful processing core, integrated visual cameras, ultrasonic sensors, and the most advanced computer vision algorithms in the world, Guidance protects your platform and gives you a new level of safety and confidence in flight. Guidance includes five sensor modules and one central processor.
High-Precision Vision Positioning
Even without GPS, achieve hovering that is accurate to within centimeters.
Even when flying at high speeds, high-precision stereo algorithms provide positioning information over nearly any terrain.
Guidance's vision positioning system is effective at altitudes of up to 65 feet (20 meters).

Obstacle Sensing in Every Direction
Guidance continuously scans the nearby environment and detects obstacles in real time. When used with a DJI flight controller, it can tell your flight system to automatically avoid collision, even at high speeds.
Specifications:
DJI Matrice 100 M100 Quadcopter Drone Platform
Physical
Parameters
Dimensions
Guidance Core: 78.5 mm x 53.5 mm x 14 mm
Guidance Sensor: 170 mm x 20 mm x 16.2 mm
VBUS Cable: 200mm

?

Weight
Guidance Core: 64 g
Guidance Sensor (single): 43 g
VBUS Cable (single):11.6g
Performance
Parameters
Velocity Detection
Range
0~16 m/s (From the ground 2 m) (The measurement shall prevail)
Velocity Detection
Accuracy
0.04 m/s (From the ground 2 m)
Positioning
Accuracy
0.05 m (From the ground 2 m)
Effective Sensor
Range
0.20 m ~ 20 m
External
Requirements
Good lighting
Texture-rich surface with clear patterns
Hardware
Parameters
Power
Consumption
Max. 12 W (with all five Guidance Sensors)
Input Voltage
11.1 V~25 V
Operating
Temperature
-10°C ~ 40°C
System Interfaces
VBUS ✕ 5
CAN ✕ 1
USB OTG 2.0 ✕ 1
UART ✕ 1
UART Level
3.3V
Includes/Requires:
Back to computer version.