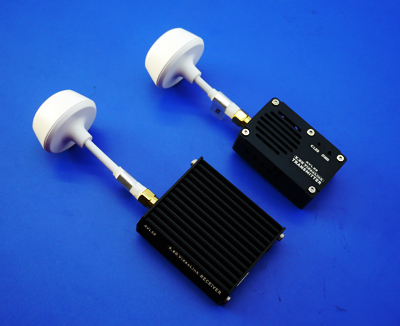 SKU
DJI58G
Brand
DJI
Added
2014/08/16
Updated
2015/04/24
 
Features:
Main features:
- 5.8GHz operating frequency, 8 channels optional
- Long-distance transmission stability
- Optional to install the the DJI petals antenna (transmission distances of up to 1.2km)
- Supports standard SMA antenna
- Remote switching working channel

The DJI FPV AVL58 is a universal 5.8GHz 500mW wireless PNP system, transmission distance of not less than 1.2km. The transmitter and receiver are made of aluminum alloy shell, not only rugged, more conducive to heat. Transmitter built-in cooling fan, it channels through manual button or remote control switch. The DJI AVL58 work great together with DJI iOSD system.



Specifications:
DJI FPV 5.8G A/V Transmitting/Receiving Combo (TX/RX)


Performance parameters:
Transmission distance: 1.2km
Transmit power: 28dBm ± 1dBm
Receiver sensitivity:-90dBm ± 2dBm
Working channel:
CH1: 5705MHz CH5: 5885MHz
CH2: 5685MHz CH6: 5905MHz
CH3: 5665MHz CH7: 5925MHz
CH4: 5645MHz CH8: 5945MHz
Optimum temperature range: -20 ℃ ~ 70 ℃
Size:
500mm x 300mm x 220mm (TX)
555mm x 480mm x 170mm (RX)
Weight: 39g (TX) / 49.5g (RX)
Operating voltage: 3S-6S Li-Po
Operating Current:
575mA ± 50mA @ 12V (TX)
90mA ± 10mA @ 12V (RX)
Includes/Requires:
Includes:
1 x transmitting unit (TX)
1 x receiver (RX)
2 x antennas
1 x basic wires set
1 x hooking accessory bag


Back to computer version.