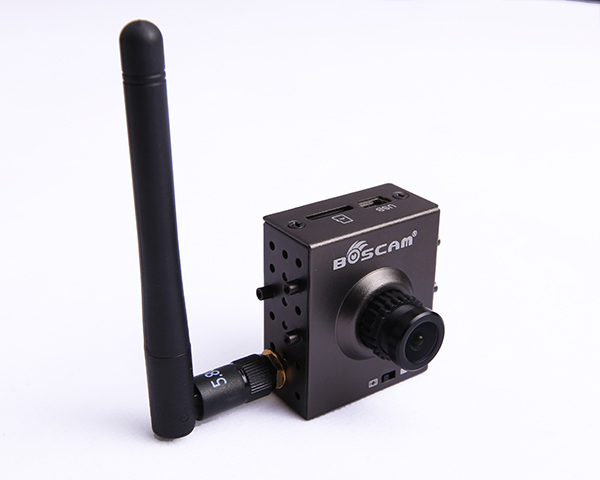 SKU
HD200MW
Brand
BOSCAM
Added
2014/07/04
Updated
2017/06/23
 
Features:
Forget about using repurposed security camera equipment, the new Boscam is the next step in purpose built FPV gear. It houses a HD camera with HD recording as well as a 200mw video transmitter in one small easy to mount package.
The camera records at HD quality 1440x1080 30fps, while simultaneously transmitting a low latency FPV 5.8GHz video stream. This small, tidy package weighs just 42 grams making this the perfect size to strap on almost anything for FPV fun. The camera has a low distortion 130 degree field of view, with automatic exposure & white balance and the HD recording uses up to a 32GB micro SD card for hours of video.
FPV just got a lot simpler with this all-In-one package. Simply connect to your battery and strap to your favorite RC model for FUN action.
Features:
• HD recording
• 32GB micro SD card support (not included)
• 130 deg field of view lens (optimal for FPV)
• 5.8Ghz Video transmiter built in
Specifications:
Boscam All-in-one 200mW 5.8G Transmitter Integrated 1440 x 1080P HD Camera & Video Recorder


Specs:
Video sensor: 1/3 CMOS 5.0 Mega Pixel
Lens: 2.6mm 130deg
Exposure: Automatic
White Balance: Automatic
Video: 1440x1080 30FPS
Trans Flash: Micro SD up to 32GB high speed
Transmitting power: 200mw
Transmitting Frequency: 5645~5945Ghz (8ch)
Size: 36 x 47 x 45mm (L x Wx T)
Weight: 42g
Connector: RP-SMA (Module side)
Power: 12v DC
Working frequencies:
1- 5705 2-5685 3 -5665 4- 5645
5- 5885 6-5905 7-5925 8-5945

Includes/Requires:
Includes:
1 x main body
1 x 2db antenna
1 x USB cable
1 x remote control cable
Back to computer version.