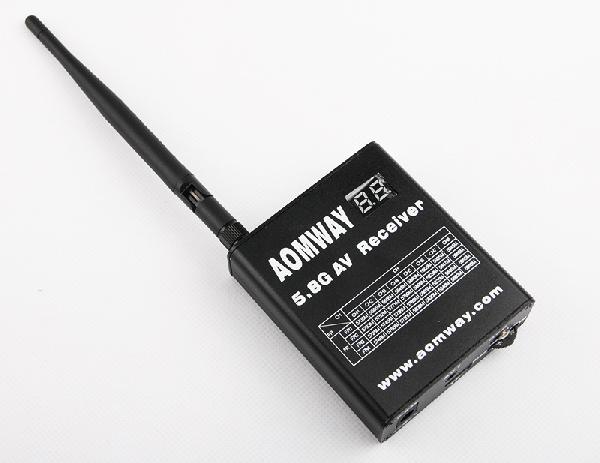 SKU
RX005B
Brand
AOMWAY
Added
2015/07/06
Updated
2017/04/14
 
Features:
Special features:
1. DVR integrated.
2. 2 ways A/V ouputs.
Specifications:
AOMWAY 5.8G 32CH A/V Receiver (VRX) W/ DVR
Transmitter channel number: 32 channels
Power input: 7-24V DC
Working current: 170mA @12V
Sensitivity: -95dbm
DVR: D1 format, 720p real time A/V recording and playback.
Video file format: AVI (each file up to 30 minutes)
Video format: the receiver itself compatible with both PAL and NTSC formats, but the DVR file recorded is PAL format.
Storage card: TF card, max to 64GB (card is NOT included)
Video ouput: two ways A/V output. AV1 output through DVR, you can monitor the real time recording status using this output; AV2 is direct output, you can connect AAT or monitor to it.
Transmitter unit Dimension: 80 x 70 x 25mm
Weight: 126g (excluding antenna)
Antenna connection: SMA jack (modules side)
Refer to here for connector type diagram
DVR function operation:
- When it is powered on, AMOWAY logo will display, then the image received from video transmitter will show up. The DVR now is on standby, indicator is in solid light.
- Press "Rec" button to start recording, LED will trun to blinking.
- To stop recording, press "Rec" once more, LED will return to solid light.
To enter main menu of the device, press and hold the central button for 5 seconds.
A. There are 3 items under the main menu, using Down and Up keys to move up and down the selection.
1. Play back vidoes files recorded.
2. Format TF card.
3. Language selection
B. Press the central key promptly to enter sub-menu
1. Use Down and Up keys to select the file you want to play back, then press the central key shortly to start the playback.
2. During playback, using Down key to fast reverse the file at x1, x2, x4, x8 speeds
3. During playback, using Up key to fast forward the file at x1, x2, x4, x8 speeds
4. Use central key to start or pause the playback
C. To return back to main menu, press and hold the central key for 5 seconds
D. Press the central key shortly to return to standby status.
Includes/Requires:
Includes:
1 x receiving module (RX only)
1 x 5db antenna
1 x power cable
2 x video cables
Back to computer version.