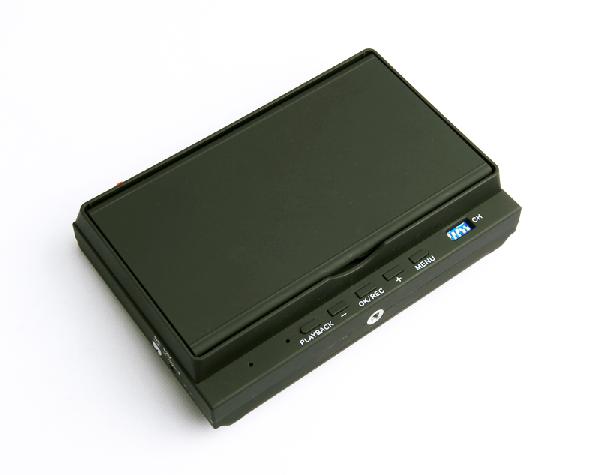 SKU
SKY700D
Manual
Manual 1
Added
2014/05/08
Updated
2014/06/12
 
Features:
Features:
1. Built-in Dual Receiver Automatically for best reception Automatic Antenna Switching
2. Not affect by 2.4GHz R/C Radios
3. Small, light weight, durable
4. No Blue Screen, Black Screen, Flash Screen
5. Folding sunshade
6. 2 DC port
7. Wide power input range, Support 2S to 6S Battery
8. USB port for connecting to PC or upgrade
9. 4 Bands and total 32 Channels
10.
Battery compartment design
, you can use your current 2S Lipo as internal power supply. (Only 2S Lipo accepted when use built-in battery compartment.)
Specifications:
7 inch 5.8G 32CH Diversity Receiver FPV Monitor & DVR Recorder SKY-700D

1. Screen: 7 inch TFT LCD Screen/long life, LED backlight
2. Resolution: PAL(720×576)、NTSC(720×480)
3. Dynamic image:MP4, mono audio channel
4. Storage:RAM(around 128MB)、Mini SD(TF) Card(support 32GB in max)
5. AV output: mono audio channel、video output
6. AV input: mono audio channel、video input
7. Working Voltage: DV 6-36V(center positive) or 2s to 6S Li-battery (Internal battery compartment support 2S Lipo)
8. Size: 180mm x 125mm x 35mm
9. Antenna Connection: SMA Jack (center hole)
10. Built-in 5.8Ghz Dual diversity receiver automatically for best reception
11. TF card slot support TF card unto 32GB
12. AV output and 1CH AV input
13. Language : English、Chinese、German、French
14. Menu List: Loop Record/Date Stamp/Memory Info/Format/Language/Date/Time/Default/Beep/TV
Standard/Battery Type/LCD Brightness/LCD Full Screen/Version
Includes/Requires:
Includes:
1 x monitor
2 x 2db antennas
1 x power input cable
1 x AV input cable
Back to computer version.