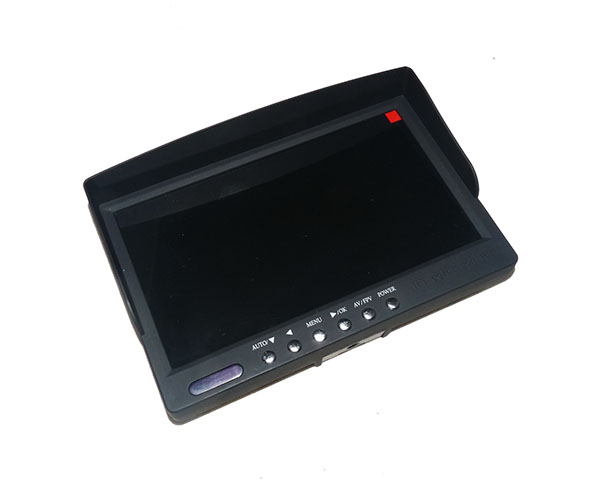 SKU
TV58R2
Added
2016/06/29
Updated
2016/07/11
 
Features:
Upgrading version of
TV58R1
.
Support one button auto-scan, with battery compartment. (battery NOT included)
Specifications:
5.8GHz Built-in Receiver 7 inch 800x480 Monitor W/ Battery Compartment
1. Screen size:7"
2. Screen type: TFT LCD Screen/long life, LED backlight
3. Resolution: 800*480
4. Brightness: 450cd/m2
5. Contrast: 500:1
6. View Angle: 140/120degree (Horizontal/Vertical)
7. Working Voltage: DV 7-13V(center positive) or 2S battery (when plug from the battery compartment)
8. Power Consumption: < 6w
9. Size: 170mm x 110mm x 40mm
10. Built-in 5.8Ghz receiver, support auto-scan
11. Input: 2 ways video
12. Support 9 languages menu selection including English.
13. Working temperature: -10℃~+ 65 ℃
14. Receiver antenna connector type: RP-SMA, jack (monitor side)
See connector type diagram

* The manufacturer may use same packing for several different types of products, please disregard the discrepancies (if any) on the packing.
Working frequencies (* Check your TX frequency to make sure they are supported by your TX)
5725Mhz 5745Mhz 5765Mhz 5785Mhz 5805Mhz 5825Mhz 5845Mhz 5865Mhz
5705Mhz 5685Mhz 5665Mhz 5645Mhz 5885Mhz 5905Mhz 5925Mhz 5945Mhz
5733Mhz 5752Mhz 5771Mhz 5790Mhz 5809Mhz 5828Mhz 5847Mhz 5866Mhz
5740Mhz 5760Mhz 5780Mhz 5800Mhz 5820Mhz 5840Mhz 5860Mhz 5880Mhz
Includes/Requires:
Includes:
1 x monitor
1 x AC adaptor
1 x antenna
1 x video cable
1 x battery connector (
Battery is NOT included
, suggested battery type: 2S, approximate battery size 68x 35x 8mm)
Back to computer version.