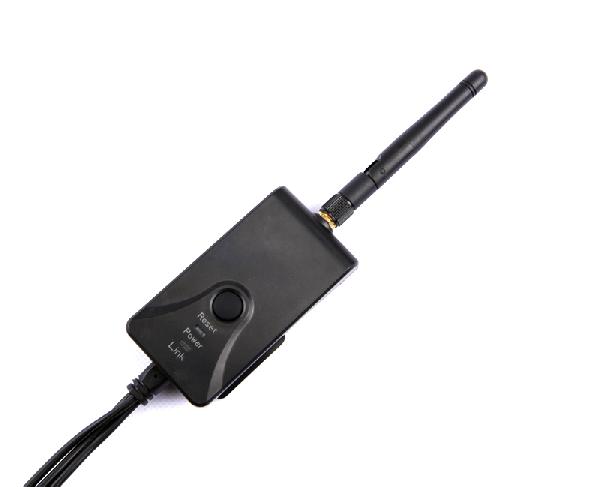 SKU
WF802W
Manual
Manual 1
Added
2014/05/05
Updated
2014/05/13
 
Features:

Innovative & exciting product, by using this AV Wifi transmitter, you can receive and view FPV image directly and conveniently on your smart phones or pads, both IOS & Andriod APPs are available.
Turn your iphone, ipad or Andriod smart phones to your FPV monitor.


Product Features

 Send AV signals to iPhone, iPad, and Android phone
 WiFi transmission
 Adjustable multiple angle camera viewing, with image-flip ability
 Minimum illumination less than 0.5 Lux, digital compensation for clear night vision  Easy installation, wiring free
 12VDC power supply
 Transmission distance with no obstacle more than 150meters
 The client terminal shall support Android 2.2 or above, and iOS shall support
Version 4.3 or above.
Specifications:
2.4G FPV WiFi Transmitter / A/V to WiFi Conversion Module 802W
Transmitting frequency: 2400MHz-2483.5MH
Modem mode: 802.11b: DSSS(CCK,DQPSK,DBPSK); 802.11g/n: OFDM(BPSK,QPSK,16QAM,64QAM)
Transmission distance with no obstacle : >150m
Frame rate: 30fps
Video resulutions: VGA
Video compression: H.264
Wireless protocols: IEEE 802.11b, IEEE 802.11g , IEEE 802.n(1T1RModes)
Power supply: DC 12V
Consumption current: 150mA (Max)
Encryption mode: WPA2
Rainproof : Yes
Weight: 80+-5g
Dimensions: 78x 43x 18mm
Operation tempreature: -10℃~+50℃
Operation humidity: 15%~85% RH
Support both PAL & NTSC



Includes/Requires:
Includes:
1 x FPV Wifi transmitter


Back to computer version.