Lithium Polymer (Li-poly) & Ni-Mh battery packs, battery chargers, Electric (Brushless) Motors, Electric Speed Controllers ( ESC ), Gyros, Electric Accessories etc.
EMAX Outrunner Brushless Motor Type BL3526/04

Added:2009/10/17
Updated:2011/09/13



Tags: EMAX Outrunner Brushless Motor Type BL3526 04
* High temperature and magnetic give the motor higher efficiency and extra power.
* Silicon steel lowers energy consumption.
* Motor is accurately CNC machined. This gives smoother and quieter running.
* Bearings are made of high temperature and high carbon steel.
Type: BL3526/04
No. Of cells: 5S Li-Poly
Dimensions: 36 x 26 mm
Shaft diameter: 5 mm
Weight: 250 g/ 8.12oz
Thrust: 2900 to 3000g
Max current: 62A (< 60 seconds)
Recommended prop without gearbox: 13x 6.5, 14x8.5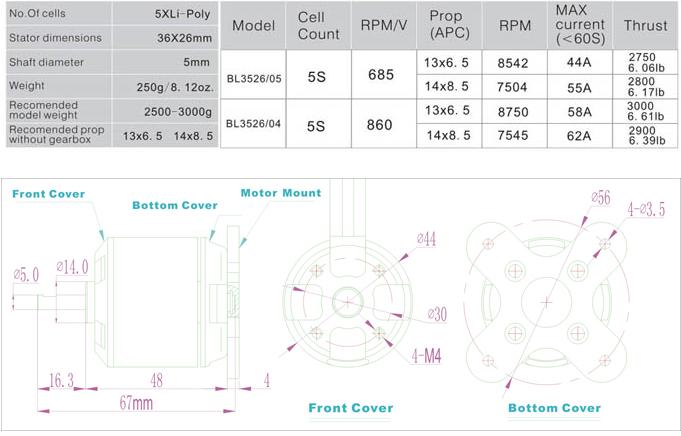 Includes:
1 x brushless motor
1 x cross type motor mount
3 x bullet motor connectors
1 x prop adaptor
Please explain:
Messages of this section are not monitored by HiModel, it is for review and discussion among customers only.
Upload Image:
Post as: Review Question
Select grade: star(s)
Anonymous: Yes No